LM2596 based step-down DC-DC converter modules can be bought on eBay quite cheaply for around a dollar each. But how do they perform? Is it safe to use it to power your design? Let's find out.
According to TI's website, these LM2596 step-down (buck) regulators are sold for $1.8 each for a quantity of a thousand. So how a finished converter could be sold for just above a dollar each is quite a mystery to me. Anyway, the picture below is the board I received. It appears that there are a few variations to this design (slightly different inductor size or capacitor size/voltage rating, etc.) but they all are largely based on the reference design.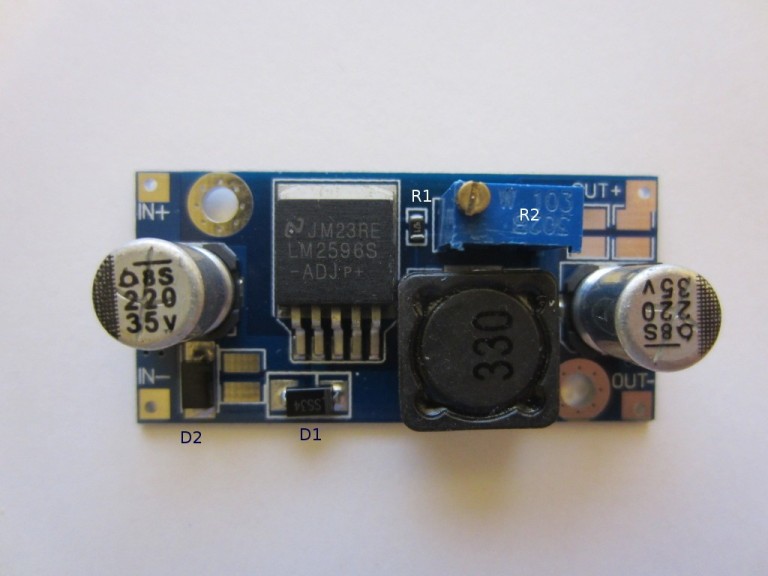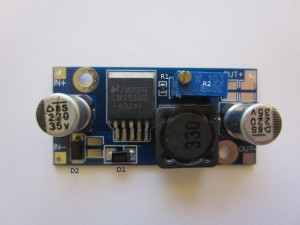 Below is the reverse engineered circuit diagram of this particular converter board I have (key components are also marked in the picture above for reference). The inclusion of a polarity protection diode (D2) is certainly a nice feature. It will prevent you from damaging the regulator should the input voltage be reversed. Of course, if the input power supply has very low output impedance and high current capability this tiny diode might not be able to save the board in an input voltage reversal situation. Also, not all variants of this step-down DC-DC converter have this diode. Although LM2596 can handle input voltages up to 45V, the input and output capacitors used are both rated for 35V only so in practice input voltage should stay below 30V for long term uses.
For More Details: LM2596 DC-DC Converter Module Testing