Good Sleep – Your Sleep Assistant
Get the best night's sleep by using Alexa and Arduino to monitor the conditions in your bedroom, make suggestions and help you sleep better.
Story
Introduction and Idea
Everyone deserves a good night's sleep. Without good sleep, it's difficult to function at full speed and face the day ahead. A restless night can happen for many reasons, and it's hard to diagnose. That's where Good Sleep comes in.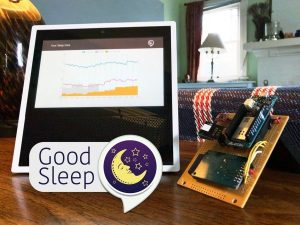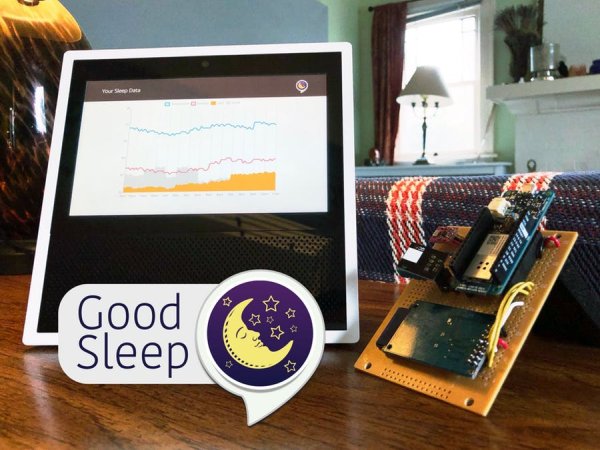 With Good Sleep, I paired a WiFi Arduino-powered monitoring system that tracks the qualities in a bedroom environment that are essential to sleep well, the temperature, humidity, light and sound levels, with an Alexa skill that interprets the data. Alexa will offer suggestions for how to improve your sleep and produces graphs so you can see how the environment in your room changes over the night.
Before you go to bed, check in with Alexa and she'll tell you if the room is ready to go, or what needs to change for the perfect night's sleep.
If you remember waking up in the night but aren't sure why, then check the graphs and find out if the room became too cold, there was a loud noise outside or maybe there was too much light leaking through your curtains.
Building the Device
I decided upon the Arduino MKR1000 to power this project due to its built-in WiFi capability and a large number of GPIO pins for a reasonable cost. The WiFi chip enables the device to run its own access point as well as connect to existing networks, and it comes with the comprehensive WiFi101 library that also allows access to the realtime clock.
I combined this with the DHT11, an all-in-one chip for temperature and humidity, the SparkFun MEMS Microphone for audio detection and a photocell to detect light levels.
Finally, I added an SD card adapter for Arduino for the storage solution.
Making a Great Initial Experience
This project brings together a number of moving parts to create something very easy for an end user to plug in and get started with immediately.
The first time the Good Sleep device is plugged in, it creates a wireless network called "Sleep Monitor".
The user connects to that network, selects their home WiFi and enters the password. The device is now set up, and gives them a 4-digit pin to remember.
Then, on their Amazon Echo device, they access the skill with "Alexa, open Good Sleep". Alexa asks for the 4-digit pin, and that's it! The device is now connected to Alexa and starts monitoring the room.
Read more: Good Sleep – Your Sleep Assistant
Project Ratings:
Related posts