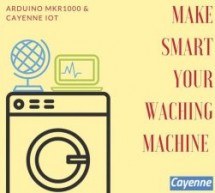 If also you, like me, put your vest on the washing machine and wait the best moment for wash the clothes... make SMART your Washing Machine. Story If also you, like me, put your vest on the washing machine and wait if is the best moment for wash the clothes, also you have a problem... like me. The best moment for me is when the cost of electricity is low, in Italy this happens at certain hours of the day, w ...
Read more

›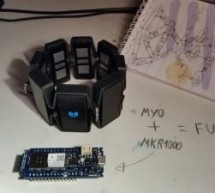 Not only this project has all the Smart Home features but it also includes MYO gesture control, allowing control of lights with your arm. Story Home Automation is the biggest domestic technological improvement of this generation, toe to toe with drones. It can provide full control of every piece of hardware in a house, if done well: from light control to preparing coffee at a specific hour of the day, key-l ...
Read more

›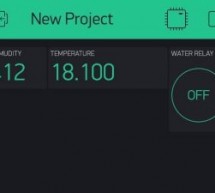 Create your Blynk mobile app to monitor your garden and activate the irrigation. Story In this tutorial we are going to learn how to use the Blynk app to monitor and control the status of our irrigation system. Blynk setup First of all you need to download the Blynk app on your smartphone and create an account. Then we can start creating a new project, select from the list your hardware and we are ready to ...
Read more

›
Description When the world's lifeforms are forced into subterranean dwellings due to nuclear fallout, evolution into lizard people or warming of the Earth, we will require a simple method for determining our position underground. In our current age, we are still working out the intricacies associated with determining our location in areas where GPS cannot reach. SubPos provides a solution to this problem, w ...
Read more

›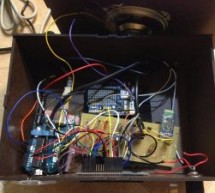 This project combines Atomic Time keeping with local weather station, and additional cool projects using Arduino and Raspberry Pi. Introduction I was looking for a cool way to use the features of the Adafruit GPS module for a practical purpose, and Tony DiCola's Arduino GPS Clock inspired me to create a GPS controlled atomic clock, with the addition of a weather station. What we did The first step is to wir ...
Read more

›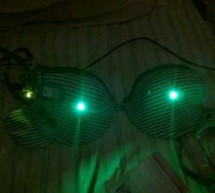 Sexy bra using Arduino MKR1000, Neopixels, and controlled from your smartphone. Story Motivation Many makers sacrifice their social life to play with devices and spend many hours and days making fun things. However, the non-maker do not understand that a robot is something beautiful even if there is a breadboard, components and noise in this tinny thing. Wearable devices are an opportunity towards the recon ...
Read more

›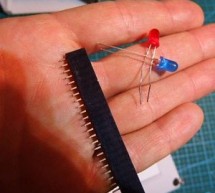 A really smart IoT socket. Switch ON/OFF your device by the smartphone using Cayenne Dashboard and Arduino MKR1000. Things used in this project Story I saw Chinese socket that you can command by your phone, but I'm a maker, and I just want make one of this by myself! This is possible by using CAYENNE Dashboard! Do you know Cayenne? See the Cayenne site! Total amount of project is about $ 60,00 I use a norma ...
Read more

›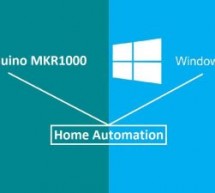 Story Nowadays, technology makes our lives easier. It evolves with huge steps and makes it easy for us to create great projects with low cost. So, by using technology we can build a really great home automation system. With the use of an Arduino MKR1000 board with it's Wi-Fi capabilities in combination with Windows 10 we can create a smart home that could also help people with movement difficulties control ...
Read more

›
Sodium. Potassium. Glucose. Lactate. Engineers at the University of California, Berkeley are focusing on measuring these components of sweat in an attempt to open an additional window into an individual's health and well-being. A new device is able to calibrate the data based on skin temperature and transmit the information wirelessly in real time to a smartphone. The results of a new study of the wearable ...
Read more

›
The Z-Wave Alliance, an open consortium of leading global companies deploying Z-Wave, was proud to announce iBlinds as the October 2015 winner of its global IoT developer competition. The Problem If you live in a house, or even a multi-room apartment, you know how annoying it is trying to control the blinds on every window. You wake up in a dark room and have to use an artificial light before letting the su ...
Read more

›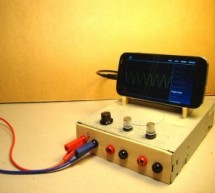 Oscilloscopes and Signal Generators are two essential electronics devices to create and test electronic circuits. Unfortunately, these devices are very expensives for students starting electronics, or makers who want use electronic circuits in their creations just once... The idea of my project is to rethink your smartphone as a portable, powerful and secured platform, able to simulate an oscilloscope and a ...
Read more

›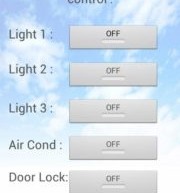 Ever wanted to make your home automated? Wanted to control the lights, fan, and other appliances from your smartphone? Or wanted a tutorial about connected devices and getting started with them? Our DIY Android Home Automation project will show you how to make your home automated using an Android smartphone. This requires no experience with Android programming at all, and a free application is included for ...
Read more

›