The NanoPi R2S, which was recently launched by FriendlyElec back in January of this year, was an upgrade to the NanoPi R1S. At the time of the Nano Pi R2S publication, the board wasn't available, and there wasn't any information about the pricing either. As of now, FriendlyElec has fully launched the NanoPi R2S and is available for purchase starting from $22.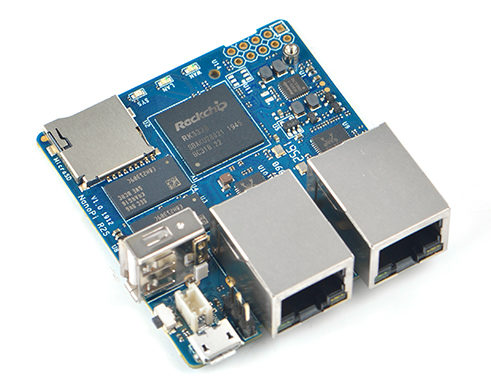 The NanoPi R2S, just like mentioned earlier on is based on the Rockchip RK3328 processor and comes more 1G DDR4 RAM, 512MB more than the predecessor NanoPi R1S. Similar to NanoPi R1S, the board comes with two Gigabit Ethernet ports (with one deployed for WAN and the other for LAN), each capable of attaining close to 1Gbps and with OpenWRT supported off the shelf, the board can be configured as a router.
WiFi isn't supported onboard but can be added through a USB dongle. FriendlyELEC recommends the use of the RTL8821CU USB dongles, which will be supported out-of-the-box by the default firmware. The board also comes with a 10-pin GPIO, which cannot be found in the NanoPi R1S board.
According to FriendlyElec, getting the new board might not be that straight forward because of the current Covid-19 pandemic.
Because of the epidemic, postal services in a lot of countries get delayed. Customers who need orders urgently need to choose DHL. EU customers who need DHL service to deliver orders need to email us before orders place.
Specifications:
CPU: Rockchip RK3328, Quad-core Cortex-A53
DDR4 RAM: 1GB
Network:

Internal 10/100/1000M Ethernet Port x 1
USB3.0 converted 10/100/1000M Ethernet Port x 1

USB2.0 Host: Type-A x1
MicroSD Slot x 1
MicroUSB: power input and USB Slave
Debug Serial Port: 3.3V TTL, 3-pin 2.54mm pitch connector
LED: LED x 3
KEY: KEY x 1 programmable
PC Size: 55.6 x 52mm
Power Supply: DC 5V/2A
Temperature measuring range: 0℃ to 80℃
OS/Software: U-boot,Ubuntu-Core,OpenWrt
Read more: FRIENDLYELEC NANOPI R2S IS NOW AVAILABLE FOR PURCHASE FROM $22