This week I have been working on another of my standard footprint 50mm x 50mm boards – it is a general purpose wireless module carrier board:-  Fobble.  That's a BLE Fob – for anyone who misses the pun.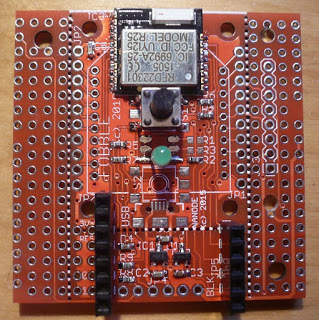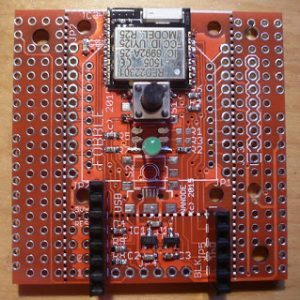 In the last few weeks there have been a number of applications arise – that could easily be addressed with an easy to use, generic wireless platform. These have included keyfob or pendant applications – requiring a small coin cell powered board – to a generic wireless board that can be stacked to one of the processor boards to provide wireless connectivity.
So after a week of head-scratching, I have come up with a small board, which at least meets the requirements of the development phase of the project – once again a useful, flexible dev-board that hobbyists can experiment with.
As can be seen from the above picture it contains a number of key features:
A resident RFduino  Bluetooth Low Energy Module with ARM Cortex M0 processor
2 layer pcb 50 x 50 mm format- with extended Arduino headers pin-out
An X-Bee footprint – with 0.1″ breakout headers – to add your own wireless module
Two push button switches – only 1 populated shown
Footprint for RGB 0505 LED
Detachable power and programmer section
Detachable side panels – to make 38 x 32 mm BLE Key Fob
8 pin header to accept 1.3″ OLED display
20mm coin cell or flat Li Po cell power – on rear of Fob pcb
Micro – USB connector for recharging Li Po
Side Prototyping areas – perforated in 0.1″ matrix
7 pin and 5 pin headers to accept any RFduino accessory shields – for development work
Some applications include:
A low power wireless data display using BLE and either OLED or e-ink display.
A BLE key fob, or wearable pendant with 2 user buttons and an RGB LED
A bridge between BLE and low power 433Hz or WiFi
As a wireless shield for an Arduino compatible device
As a general purpose Experimenter's BLE dev-board.
The other unique feature about Fobble, is that it has it's own native ARM M0 and Bluetooth Low Energy module, and can act as a bridge between Bluetooth, and any other wireless module that you may wish to use.
It can accept any wireless module that offers an XBee footprint – or a wireless daughter module of your own making – pinned out to 2,  10 pin headers  on 1.1″ centres.  This simple scheme offers the most flexibility. So you can add an ESP8266 on an X-Bee format carrier, or similarly an RFM69.
Fobble is pin compatible with the standard Arduino header footprint, and will also accept a 3.3V FTDI cable for programming.
Read more: Fobble – A general purpose Wireless Breakout Board!