Extreme LPWA Arduino board designed for Internet of Things applications
A new Internet of Things (IoT) Arduino board has been created by designer and engineer Marc Fàbregas Bachs based in Barcelona, Spain. Taking the form of the AllWize K2 an extreme LPWA Arduino boardcreated for IoT applications using the Wize protocol. Watch the demonstration video below to learn more about the tiny Arduino board and its features.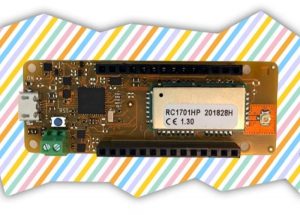 AllWize K2 kits composed of: Allwize K2 board, unsoldered headers & labels, uFL to SMA connector, 2dbi antenna, getting started guide, a new sticker for your laptop and a wooden enclosure.
"You dream of creating your own IoT product but technically you're not there yet. We have the solution: the AllWize K2 is a device that empowers *everyone* to connect things. It is extremely easy to use and to monitor everything you want to track such as soil humidity, movements or air quality; and much more."
Watch Video:
https://www.kickstarter.com/fa035336-39fe-49f7-a869-710bb96b1401
"AllWize creates hardware solutions to enable the creation of IoT devices connected to the state-of-the-art Wize technology in an open source and open hardware, based on Arduino architecture. We started with the AllWize K1, we tested and it was a success! We are now launching the production of the K2 with the awesome Wize protocol. The goal is to make a similar product but smaller, more affordable and expand even more its capabilities."
Project Ratings:
Related posts