Intersil have introduced a single chip just 9 x 6.5 mm which contains just about all the control features (including the output stages) needed to build a dual 0.8 to 5 V power supply with 3 A per channel output capability. The ISL8203M can also supply 6 A in current sharing operation.
The ISL8203M is an integrated step-down power module optimized for generating low output voltages down to 0.8V.  The input supply voltage range spans from 2.85 V to 6 V. The two channels are clocked 180° out-of-phase to help reduce input RMS current and EMI. While in current sharing mode this interleaving of the two channels is beneficial for reducing input and output voltage ripple.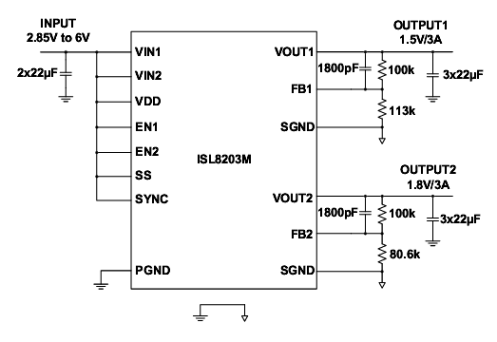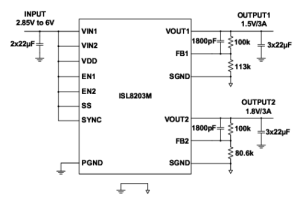 The ISL8203M has an independent power-good (PG) signal for each channel and features output capacitor discharge on power-down. Other features include internal digital soft-start, enable for power sequence, over-current protection and over-temperature protection. The chip integrates a PWM controller, synchronous switching MOSFETs, inductors and passive components to maximize efficiency and minimize external component count.
Key features:
Efficiency up to 95%
Input voltage range: 2.85 V to 6 V
Output Voltage range: 0.8 V to 5 V
Internal digital soft start: 1.5 ms
External synchronization up to 4 MHz
Dimensions: 9.0 x 6.5 x 1.83 mm
Peak current limiting and hiccup mode short-circuit protection
Over-current protection
The ISL8203M is available in a thermally-enhanced, compact QFN package.
For More Details: Dual 3A PSU on a Chip