Distrelec adds the new Sony Spresense range to webshop
Distrelec Ltd, leading European distributor of electronics, automation and measurement technology has added the new Spresense range by Sony, manufacturer of consumer and professional electronics, to the webshop.
The Spresense is a compact development board based on Sony's power-efficient multicore microcontroller CXD5602. Featuring an integrated GPS, high-res audio output and multi mic inputs, the board is a low-power microprocessor solution for wearable applications, allowing developers to create IoT applications within a shorter time frame.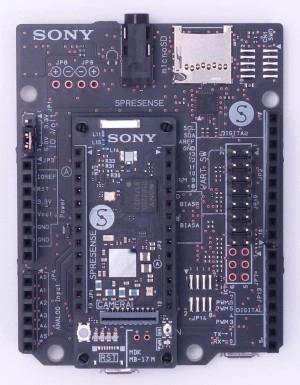 The range gives developers the ability to form solutions using the Arduino IDE software or the NuttX operating systems. Depending on specific projects, the board can be equipped with optional add-ons and Arduino shields, making the Spresense versatile enough to be used in IoT applications including logistics, AI, robotics, security and areas where battery life and CPU power are key.
Adam Hurst, Director of Primo Components, Sony's European distribution partner, comments; "Sony's Spresense range removes the effort of developing high quality IoT solutions. With such vast application capabilities, and the versatility to be used across a range of industries and professions, we have strategically partnered with Distrelec Group to ensure the range can be easily accessed by the broader customer network."
Steve Herd, Head of Customer Proposition and Product Management at Distrelec, comments; "What is particularly appealing about the Sony Spresense range is its versatility and application capabilities. The range is suitable for such a wide range of use cases ranging from robotics and tracking, through to AI and image recognition, allowing solutions for the wider Distrelec community."
The Sony Spresense range can be purchased via the Distrelec web shop.
Source: Distrelec adds the new Sony Spresense range to webshop

Project Ratings:
Related posts