Research Group: Ryan Mountcastle, Minh Trang Nguyen, Nathan Ranno, and Ryan Ward
Launch: Whitworth Fall 2012
This experiment was designed to examine cosmic ray activity in the Earth's atmosphere as altitude increases. The previous group's project utilized three Geiger counters stacked vertically to eliminate false positives. This only accounts for rays travelling in the vertical direction. We seek to examine the rays travelling in both the vertical and horizontal direction knowing that rays are scattered in the atmosphere (see Fig. 1).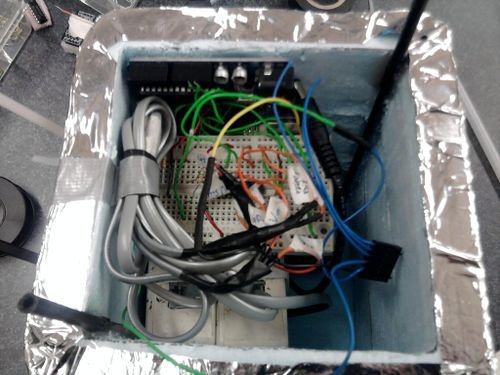 Our arrangement of three Geiger counters had two searching the vertical direction and two searching the horizontal direction; one Geiger counter was shared between the directions. We used an Arduino microcontroller and NOR chip to take the readings from the Geiger counters and watch for simultaneous counts in a single direction. The counts were summed over a one minute interval and read as a scaled voltage by the transmitter. Due to a faulty variable declaration in our code, the pod did not transmit data successfully for us to analyze. We were not able to reach the desired conclusions, but we are confident that fixing the problem in a future project will result in successful data collection.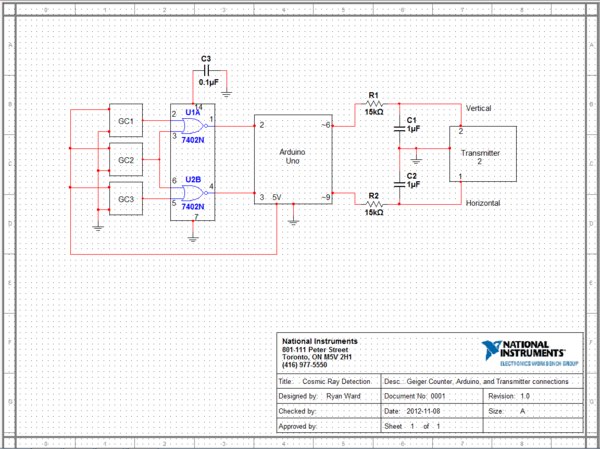 In the early stages of cosmic ray detection, it was believed that "atmospheric electricity" came directly from radioactive elements in the ground. Furthermore, it wasn't until 1912, when Vector Hess's balloon experiment concluded that the ionization levels (radiation) gradually increased in altitude. Although Hess later won the Nobel Peace Prize in Physics for his discovery, the term "cosmic rays" wasn't fully discovered until the mid-1920's when Robert Millikan made measurements on primary gamma rays and secondary electrons. From his data Millikan concluded that the gamma rays originated from deep interstellar fusion between hydrogen atoms and heavier elements and that electrons were produced from gamma rays interacting with the earth's atmosphere. Later studies proved that cosmic ray particles do in fact origin from deep space, however, they carry an electric charge rather than being designated as photons. [1] As a result, Cosmic Rays birthed a new era of astronomical science.
For more detail: Cosmic ray detection from vertical and horizontal directions using three Geiger counters