Simply NUC, the company behind several Intel NUC based SBCs like the Apollo Lake based NUC 8 Rugged, recently announced the launch of a new mini-computers codenamed; "Sequoia".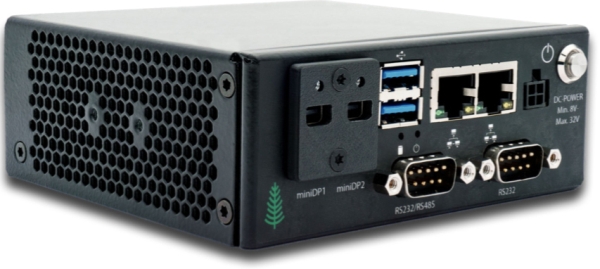 The Sequoia is Simply NUC's first AMD-powered mini computer and it is aimed at applications around AI, Edge Analytics, robotics, POS, digital signage and industrial IoT or computing, thanks to it's rugged and robust build.
The Sequoia is built around AMD® Ryzen™ processors, which gives it the ability to run most of the popular operating systems including; Windows 10 and several Linux distros, giving developers the flexibility to develop the exact solution they require without compromises.
In terms of features, in order to accommodate the requirements for the plethora of applications for which the Sequoia can serve, and keep the Simply NUC's tradition of providing all their Mini PCs with very extensive connectivity features, the Sequoia comes with two serial ports, two gigabit Ethernet ports (controlled using Intel's i210-LM), two locking Mini Display Ports, Serial RS-232/Serial RS-485 video outputs, Wi-Fi 5 and Bluetooth 5, optional microSD card reader, and several USB 3.1 Gen 2 port. To give users additional connectivity options, the Mini PC also comes with three(3) M.2 slots through which things like a wireless-AC card, an LTE Modem and (or), an SSD storage device can be connected to the sequoia. To provide multiple mounting options, the chassis of the mini PC is designed to support DIN rail and VESA mounting plate, giving users a choice on how the device is installed.
The Sequoia was designed for reliable and long-lasting use in rugged environments, typical of industrial settings. It supports an automotive-grade power supply range (8 to 32Vdc) with a locking connector and is able to withstand a maximum relative humidity of 95% @ 40C and a wide operational temperature range of 0 to 60C. To enhance maintenance, the Sequoia also features a built-in health monitoring system which includes; a controllable fan, hardware monitoring and a watchdog timer.
Read more: COMPACT RYZEN V1000 SYSTEM STARTS AT $689 WITH PRE-LOADED UBUNTU