The BME680 from Bosch Sensortec is the world's first environmental sensor combining pressure, humidity, temperature, and indoor air quality in a single 3×3mm2 package.
The new IC enables mobile devices and wearables to monitor indoor air quality measurement in a low power, small footprint package. The level of integration is what makes this solution so attractive as well as Bosch's capabilities with software algorithms for a full solution.
The IC will enable multiple new capabilities for portable and mobile devices such as air quality measurement, personalized weather stations, indoor navigation, fitness monitoring, home automation, and other applications for the Internet of Things (IoT).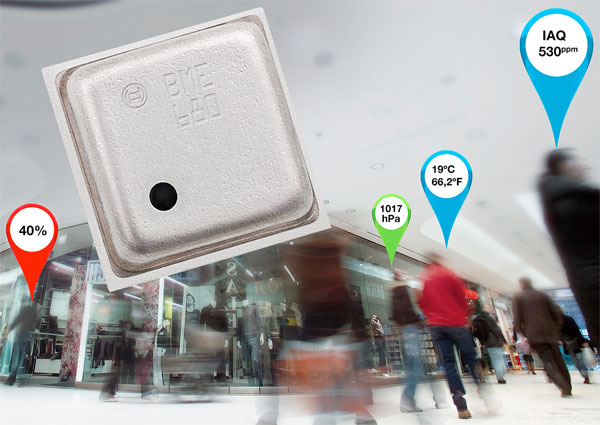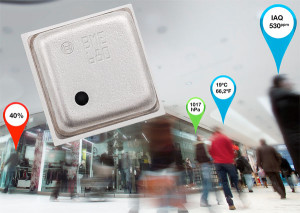 The gas sensor within the BME680 can detect a broad range of gases in order to measure indoor air quality for personal well-being, including Volatile Organic Compounds (VOC) from paints (such as formaldehyde), lacquers, paint strippers, cleaning supplies, furnishings, office equipment, glues, adhesives, and alcohol.
The BME680 will enable designers to create a variety of products for the IoT such as in smart homes, smart offices and buildings, smart energy, smart transportation, HVAC, elderly care and sport/fitness applications.
I met with some members of the Bosch team at CES (see below) to learn more about the expansion of their existing family of environmental sensors.
I really like the accuracy of this IC which will make the solution even more attractive to designers. The IC's pressure accuracy of ±0.12 Pa provides precise altitude information to ±1m, making it perfect for applications such as indoor navigation with floor level tracking. The best-in-class response time for measurement of humidity and ambient temperature will spur the growth of new applications such as personalized weather information and air quality monitoring for well-being in the home.
For More Details: Combo MEMS sensor solution with integrated gas sensor launches at CES