Axiomtek – a world-renowned leader relentlessly devoted in the research, development and manufacture of series of innovative and reliable industrial computer products of high efficiency – is pleased to announce the release of CEM520, its new high-performance COM Express Type 6 basic module featuring triple independent displays, industrial operating temperatures and rich expansions. The CEM520 is based on the Intel® Xeon® E-2176M and 8th generation Intel® Core™ i7/i5/i3 processors (codename: Coffee Lake) with the Intel® CM246/QM370/HM370 chipset. The 125 x 95 mm system-on-module was designed for graphics-intensive applications over the Industrial IoT, including automation control, medical imaging, digital signage, and gaming machines.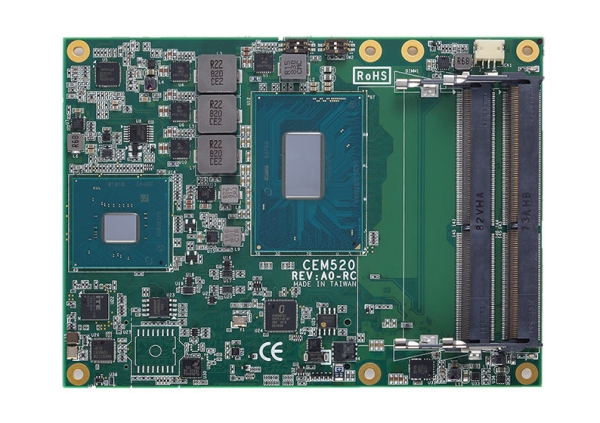 The high quality embedded module is equipped with dual DDR4-2666 SO-DIMM slots for up to 32GB of system memory. Its wide operating temperature range of -20°C to +70°C strengthens the adaptability of harsh operating conditions. Integrated with Intel® Gen 9 graphics, and with the support of DX11/12, OCL 2.0 and OGL 4.3/4.4, the Intel® Xeon® and Core™-based computer-on-module presents excellent graphics performance with a resolution up to 4K. Three independent displays are supported through one LVDS, one VGA and two DDI ports for HDMI, DisplayPort.
Axiomtek's newest system-on-module, the CEM520, was designed for users who need fast computing power and stunning graphics performance. The enhanced features, rich expansions and superior performance reduce the design effort and accelerate time to market to meet customer demand for quick deployment. The rich display ports and expansion interfaces provide increased flexibility for various markets," said Seamus Su, a product manager of Product PM Division at Axiomtek. "Axiomtek also offers the CEB94011, a selectable development baseboard designed to operate with the CEM520, to allow for fast turnkey evaluation.
Read more: AXIOMTEK'S INDUSTRIAL-GRADE COM EXPRESS TYPE 6 MODULE WITH INTEL® XEON® PROCESSOR – CEM520