This week, we'll finally be using the Arduino to control some motors! First up, we'll control a standard DC motor running off a 9V battery with the help of an NPN transistor and a PWM (Pulse Width Modulated) signal from the Arduino.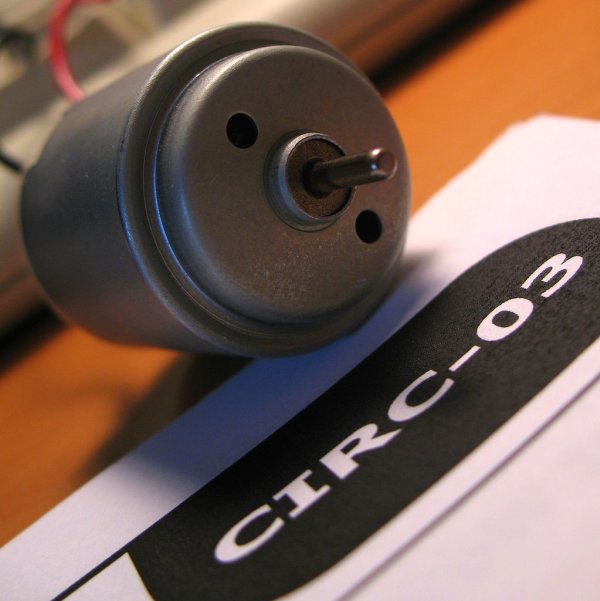 [box type="note" color=" #202020 " bg="#ffbb00 " font="verdana" fontsize="14″ radius="20 " border="#000″ float="right" head="Attributes"]Thanks to Jeremy , for this articles[/box]
Next, it's onto 180 degree servo motors, which we will power on an independent 5V rail using a voltage regulator. We'll control the servo using a PWM signal from the arduino, and I'll show you how you can turn analog distance readings into precise angles for the servo to turn to!
I mention in the video that you can control DC motor direction using an H-Bridge. If you want to wire that up, take a look through this Wikipedia article, and read through this tutorial.

If you want to learn more about analog input filtering in software,
check out this example code
.
The Arduino Contest has been extended! So don't forget to submit your project.
You can download the files associated with this episode here:
[box color="#985D00″ bg="#FFF8CB" font="verdana" fontsize="14 " radius="20 " border="#985D12″ float="right" head="Major Components in Project" headbg="#FFEB70″ headcolor="#985D00″]PARTS LIST
1.   Arduino Uno:  http://us.element-14.com/arduino/a000046/arduino-uno -board/dp/13T9285
2.   USB Cable: http://us .element – 14.com/jsp/search/productdetail.jsp?SKU=73H0884
3.   Arduino Software:  http://arduino.cc/en/Main/Software
4.   Breadboard: h ttp://us.element -14.com/jsp/search/productdetail.jsp?SKU=17C6965
5.   .1uF capacitor:  http://us.element-14.com/nichicon/uvz1h0r1mdd1td/capacitor-alum- elec -0- 1%C2%B5f-50v-radial/dp/65R3169
6.   22uF capacitor: http://us.element-14.com/rubycon/50yk22m5x11/capacitor-alum- elect -22uf -50v-radial/dp/38M6812
7.   5V Regulator:  http://us.element-14.com/jsp/search/productdetail.jsp?SKU=89K0746
8.   9V Battery Clip: http://us.element-14.com/bud-industries/hh -3449/battery-clip- 9v -wire -lead/dp/34M2183
9.   NPN Transistor: http://us.element-14.com/jsp/search/productdetail.jsp?SKU=18C9246
10.  1k ohm Resistor:  http://us.element-14.com/multicomp/mcf -0 -25w -1k/resistor-carbon – film -1kohm -250mw/dp/38K0327
11.  1uF Capacitor: http://us.element-14.com/vishay -bc -components/ k105z205ve5th5/capacitor -ceramic-1uf-25v5v-radial/dp/95C0982
12.  1N4004 Diode: http://us.element-14.com/vishay -general- semiconductor/1 n4004 – e3- 54/standard-diode-1a -400v -do-204al/dp/78K2126
13.  IR Distance Sensor: http://us.element- 14.com/sharp/gp20a41sk0f/dp/14N9318
14.  Geared DC Motor:  http://solarbotics.com/products/gm8/
15.  Servo Motor:  http://www.sparkfun.com/products/9064
16.  Jumper Kit:   http://us.element-14.com/3m/923351-i/pcb-accessories/dp/65F2290  [/box]
For more detail: Arduino Motors and Transistors