What better way to start experimenting with open source micro-controllers ( Arduino ) then by building your very own open source robot ( CC (SA -BY) )?
What to do with your SERB?
Fully programmable using an Arduino Duemilanove micro-controller (or another micro-controller of your choosing).
No need to solder.
Choice of cutting options for acrylic pieces. (scroll saw, access to a laser cutter, purchasing pre-cut pieces)
Easily expandable and modifiable with extra bolt holes and included breadboard.
Dual ball bearing rear wheel.
Up and running in 1-2 hours. (from kit)
Open source design (build as many as you like)
(Shameless Plug)
In the UK and like Arduino stuff? check out our newly opened web store oomlout.co.uk
Note: Source files are available on a parallel Instructable (Source Files For) – How to Make an Arduino Controlled Servo Robot – (SERB)
Step 1: Parts & Tools
All bolts can be found at your local Home Depot. The other parts can be found online (I have included a link to my favorite source for each).
Parts List:
A bundle containing all hardware items can be purchased at oomlout.com's store ( here ) ($120)
Nuts and Bolts:
3mm x 15mm bolt (x20)
3mm x 10mm bolt (x12)
3mm nut (x34)
3mm washer (x12)
8mm x 25mm bolt (x2)
8mm nut (x2)
Skate Bearings (x2) ( VXB ) (these are standard skate bearings so they can be salvaged from a pair of roller-blades or a skateboard)
Tires
Large O-ring (4.5″ ID 3/16″ Bead Dash #349) (x2) ( McMaster-Carr Product #9452K407 )
Small O-ring (3/4″ ID 3/16″ Bead Dash #314) (x1) ( McMaster-Carr Product #9452K387 )
Electronics
Batteries:
AA Battery (x4) (not included in kit)
9v Battery (x1) (not included in kit)
Wire:
(all wire is 22 AWG solid I purchase mine through McMaster-Carr )
15 cm Purple (x2)
15 cm Black (x1)
5 cm Black (x2)
5 cm Red (x2)
Tools
Screwdriver (x1) (Philips)
Needle-nose Pliers (x1)
Step 2: Cutting Pieces
Please chose which steps to follow based on the cutting option you have chosen.
Option 1 (Purchasing Pre-cut Parts)
Purchase a pre-cut chassis from oomlout.com's store ( here ) ($60 including shipping to the USA and Canada)
Option 2 (Digital Manufacturing (ie. Ponoko ) / Access to a Laser Cutter)
Download the laser cutter layout ( "03 SERB Ponoko Cutting Layout P2.eps" or "03-(SERB)-Ponoko Cutting Layout (P2).cdr" )
Cut the files using Ponoko or on your own Laser Cutter (using 3mm, .118″ acrylic (sometimes sold as .125″)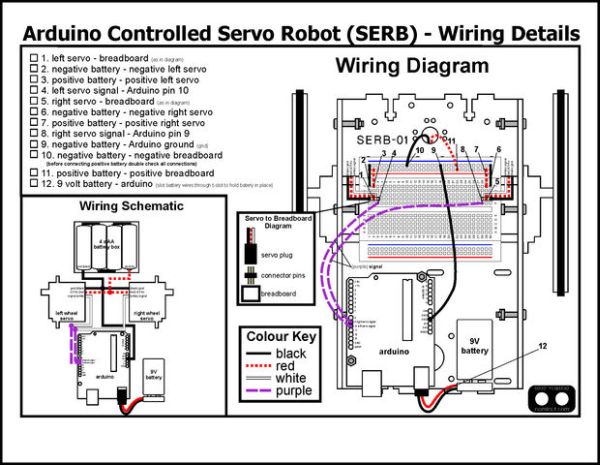 Option 3 (Scroll saw and Drill)
Download and print the PDF pattern (please choose the file corresponding to your paper size) 03-(SERB)-ScrollSaw Pattern (letter).pdf 03-(SERB)-ScrollSaw Pattern (A4).pdf(it is important to not scale the drawing while printing)
Measure the ruler on the printout against a ruler you trust, if they do not match the pattern has been scaled and you need to look at your printer settings before reprinting. If they do match up, onwards.
Glue the pattern to the acrylic sheet (3mm, .118″ (sometimes sold as .125″).
Drill holes.
Cutout pieces using a scroll saw
For more detail: Arduino Controlled Servo Robot (SERB)