Hey folks! After making an Arduino smartwatch just last week, I received many complaints,or tips, to use a RTC (real-time clock) module. That's because the Arduino timer is not very precise, it can lose a couple a minutes along a full work day. Luckly, I had one of those modules at my home, I decided to give it a try. However, I faced some challenges along the way, as I can show you here.
This is my weekend project: an arduino chess clock, and also a creative multi-game box. Multi-game because, although I programmed two modes, one regular clock and one chess clock, it can be programmed in many more ways, to play a lot of games. For example, you can have a quiz with your friends, to see who presses the buttons first, after each question, while displaying points for each player, or you can adapt a homemade version of the Simon memory game, making it generate a random sequence of sounds and buttons, each time longer. This could prove very usefull for kids learning and developing their memories. Imagine one of these on your family meetings, the kids could play with each other, without having to run around like they usually do (laughts).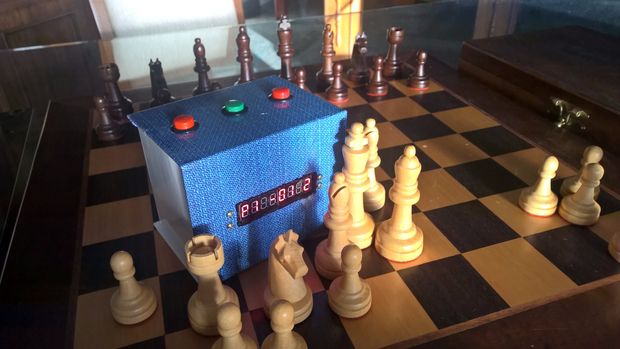 I took around 6 or 7 hours to make, and it looked really cool, so I wanted to share with you guys. I included images, a video, the links to the pieces and the code. If you like, please share! And take a look at my other projects!! Thanks! Let's begin!
Observation: forgive me if my english is not good enough, this is not my native language, for I am brazilian. XD
UPDATE: I got help with the Real-time clock from Enrico Cotulelli, who I have to apologize for not mentioning on the original post. His profile, for who want to know more about the RTC and his work is here.
For More Details: Arduino Chess Clock – Multi-game Box