Monitor your road speed using the Arduino. This project uses a magnetic switch (also called a reed switch) to measure the speed of one of the bike's wheels.  The Arduino calculates the mph, and send this information out to the LCD screen on the handlebars as you ride.  It is compatible with any kind of bike/wheel, simply enter the radius of the wheel in the firmware to calibrate the device for your setup.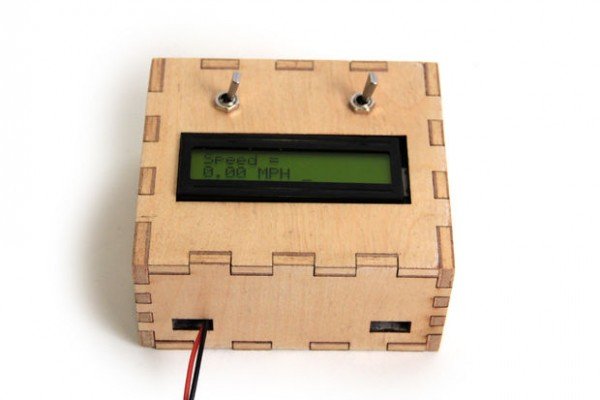 Parts List:
(1x) Arduino Uno REV 3 Radioshack 276-128
(1x) Switch-Magnetic Reed Radioshack 55050593
(1x) 10K Ohm 1/4-Watt Carbon Film Resistor Radioshack #271-1335
(1x) 9V Alkaline Battery Radioshack #23-866
(1x) Heavy-Duty 9V Snap Connectors Radioshack #270-324
(1x) PC Board with Copper Radioshack #276-147
(1x) Parallax 27977-RT Serial Backlit LCD Radioshack 276-120
(x2) SPST PC-Mountable Submini Toggle Switch Radioshack #275-645
(2x) Male Header Pins Jameco 103393
(1x) Female Pin Sockets Jameco 308567
Additional Materials:
22 Gauge Wire Radioshack #278-1224
Solder Radioshack #64-013
sand paper
plywood
wood glue
hot glue
screws
zip ties
sugru
Download Arduino IDE
Step 1: Schematic
The schematic for this project is shown above.
It consists of three switches:
-one to connect to a 9V power supply
-one to switch the backlight of the LCD on and off
-a magnetic switch (called a reed switch) which closes each time the wheel completes one full rotation.
The Parallex LCD is designed to connect to the arduino using only three pins (ignore the labels and the other pins int his schematic).  One to 5V, one to ground, and a third to serial out (TX)- on the arduino, serial out is digital pin 1.
10kOhm resistors are connected to the reed and backlight switches to prevent excess current between 5V and ground (you should never directly connect 5V and ground on the arduino!)