What is Arduboy?
Arduboy is an open platform for people to play, create and share games. A game system the size of a credit card. Choose your favorite classic game from the completely free Arduboy Arcade. Built on the popular Arduino software, it's also an excellent way to learn how to program! Because you can learn to make your own games, Arduboy is a game system the size of your imagination!
Free Games!
Every game published on Arduboy Arcade will be free, open source and available to be edited.
Special thanks to the Arduino Gaming Community!! We are proud to join the party of open source gaming started by these awesome projects that pioneered the way to make and share games!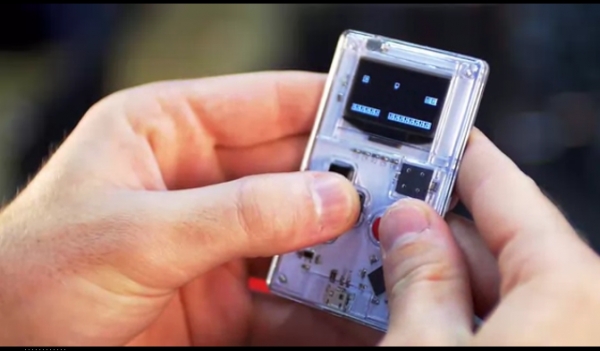 Super Retro!
Designed to remind you of a more simple time in the world of gaming, the Arduboy brings true 8-bit gaming into the 21st century with style. The black and white screen invites you to involve your imagination once again while gaming.
Open Source Gaming!
Anyone can make games for the Arduboy! Free online tutorials guide you through a step by step process on how to develop your own software! There are already plenty of examples to learn from. Ever wanted to create a level or map for your favorite game, or make your favorite character jump higher? Now is your chance!
Education Kits!
We want to help you use Arduboy to teach kids how to program! What better way to engage young people in software development by giving them the power define their own game world? Children love to create, and Arduboy helps make creating games more fun and accessible than ever.
To encourage the use of Arduboy in classrooms we are offering an education kit reward that includes 10 Arduboys at the same price as our early bird units. But that's not all we also will provide a printed booket and free online coursework for an entire lesson plan for learning C++ on the Arduboy!
Custom Branding!
Want an Arduboy like no other? 5 lucky backers can pledge for a batch to be produced with custom laser engraved artwork on the metal back, complete with a custom game we develop for you! If you want the coolest business card on the planet or are looking for the perfect promotional item for your business then this deal is for you!
High-Tech, Low-Cost!
Fitting the same dimensions of a credit card (85.60×53.98 mm), the Arduboy is built to be as thin as possible yet incredibly durable. We spent an entire year working out the best way to balance thickness, durability, practicality, and cost and we are very proud of this result. At only 5mm thick, we have achieved a device that can live in your pocket (or even wallet) thinner than any mobile phone! In the future we want to work to trim this down, but that will take a lot more work and a little bit of magic!
For more detail: Arduboy is a new game system for classic games