Particle Industries endpoint and repeater development kit is designed for IoT projects and prototyping
Particle's Xenon is a powerful mesh-enabled development kit that can act as either an endpoint or repeater for Particle mesh networks. It is based on the Nordic nRF52840 and has built-in battery-charging circuitry so it is easy to connect a Li-Po and deploy a local network in minutes. The Xenon should be paired with an argon or boron gateway to connect data to the particle device cloud.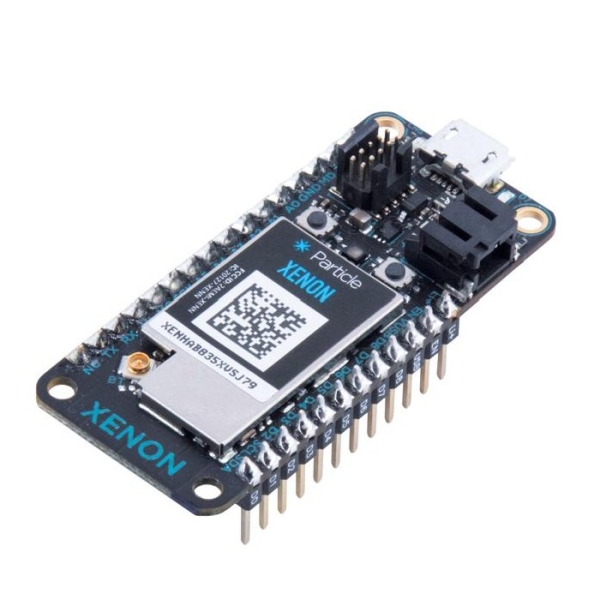 BLE and NFC features are available on the Xenon development kit. With wiring APIs for both BLE and NFC, particle applications can be created that interact with mobile devices and integrate with off-the-shelf BLE sensors, peripherals, and other Particle BLE accessories. Plus, BLE and NFC complement one another and offer low-power, low-latency communication, getting critical data where it needs to be without wasting time or money.
The kit includes the Xenon development board, a mini breadboard, and a USB cable. Equipped with the Nordic nRF52840 processor, the Xenon has built-in battery charging circuitry which makes it easier to connect a Li-Po battery and 20 mixed-signal GPIOs to interface with sensors, actuators, and other electronics.
Nordic Semiconductor nRF52840 SoC
-ARM Cortex-M4F 32-bit processor @ 64MHz
-1MB flash, 256KB RAM
-IEEE 802.15.4-2006: 250 Kbps
-Bluetooth 5: 2 Mbps, 1 Mbps, 500 Kbps, 125 Kbps
-Supports DSP instructions, HW accelerated Floating Point Unit (FPU) calculations
-ARM TrustZone CryptoCell-310 Cryptographic and security module
-Up to +8 dBm TX power (down to -20 dBm in 4 dB steps)
-NFC-A tag
On-board additional 2MB SPI flash
20 mixed signal GPIO (6 x Analog, 8 x PWM), UART, I2C, SPI
Micro USB 2.0 full speed (12 Mbps)
Integrated Li-Po charging and battery connector
JTAG (SWD) Connector
RGB status LED
Reset and Mode buttons
On-board PCB antenna
U.FL connector for external antenna
Meets the Feather specification in dimensions and pinout
FCC, CE and IC certified
RoHS compliant (lead-free)
All Particle hardware can be set up in minutes using Particle's mobile- and browser-based setup tools. Every device comes pre-installed with Device OS, Particle's powerful embedded operating system. Particle hardware is built to scale, enabling seamless transition from prototype to a global deployment with device cloud hosted infrastructure.
Features
No single point of failure: build a local mesh network that is self-healing so if an individual device goes offline the network can reconfigure itself to the closest connection
Self-extending: if more range is needed, add another node and the messages can hop through the mesh back to the gateway
Reliable networks: interconnected devices can simultaneously transfer data smoothly and will not complicate the network connection
Low-cost, low-power: using wireless mesh networks eliminates the cost and complexity of installing fiber/wires between facilities
Read more: XENON DEVELOPMENT KIT