Edinburgh, UK, 23 May 2012 – Wolfson Microelectronics plc has today announced the introduction of the WM5110, the industry's first quad core High Definition (HD) Audio Processor System-on-a-Chip (SoC). This new highly-integrated, low power HD Audio Processor with advanced DSP feature set is designed to deliver revolutionary HD Audio performance for smartphones, tablet computers and portable multimedia devices, setting a new standard for mobile audio processing.
The WM5110 provides an exceptional 110dB signal-to-noise ratio (SNR) and a blazingly fast 600 MIPS of processing power, while only requiring 3mW DAC to headphone power consumption, making it the most powerful and efficient HD Audio Processor on the market. Coming complete with its own Software Development Kit, and with enough MIPS and memory to run Wolfson's suite of sound enhancing and noise reduction software, customers' own software or third party software, OEMs can easily create a unique audio signature that will help differentiate their product in the marketplace, delivering a truly platform agnostic and future-proof system.
The WM5110 also features class-leading earpiece and stereo headphone Ambient Noise Cancellation (ANC), Acoustic Echo Cancellation (AEC), and both transmit-path (Tx) and receive-path (Rx) noise reduction, resulting in 32dB and 20dB noise reduction respectively. These features combine to provide a reduction in background noise of up to 90%, and a dramatically improved user experience for both the caller and listener. Combined with additional features including wideband voice, multi-microphone beamforming, wind-noise suppression and other programmable filters, the WM5110 delivers wonderfully clear and crisp voice calls, even in the noisiest environments; a true multimedia sound experience; outstanding audio capture and playback; and rich and natural-sounding conference calls.
This complete, low cost solution also features 10 fewer components than competitor parts with a comparable solution while providing additional functionality, a smaller PCB footprint and a reduced bill of materials cost for the manufacturer.
Edinburgh-based Wolfson has put a quad core DSP into an all-in-one audio chip for phones and tablets, and improved sound quality.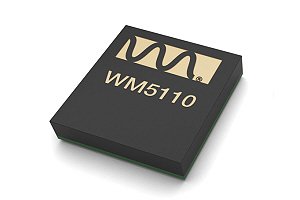 Dubbed WM5110, the chip has a total of 600Mips of digital audio processing capacity, and audio DACs with a signal to noise ratio (SNR) of 110dB.
An earlier product, the WM5100, achieved 75Mips and 102dB.
"That 8dB improvement has taken us almost a year to achieve," said product line manager Duncan Macadie.
Power for headphone audio playback including DACs and amplifier is 3mA, compared with 4mA with the 5100.
The DSPs can be clocked (20MHz to 150MHz) and shut down separately to minimise power consumption for a particular task, and at full throttle "would be running a lot of audio enhancement algorithms and consuming several tens of milliwatts", said Macadie.
By providing so much DSP, the firm is pitching at phone designers wanting to off-load audio processing from the main application processor.
"Voice control takes around 35mW on an application processor, we can do it for under 10mW," claimed Wolfson product director Eddie Sinnott.
The other argument that the firm puts forward is that analogue functions become increasingly difficult as chip geometries are squeezed: so DACs and ADC built on 40, 28 or 20nm application processors are not going to perform well or produce good audio.
For more read: Wolfson adds 600Mips DSP to phone audio chip