Ready for sampling in September, Toshiba's 48-layer BiCS (Bit Cost Scalable) flash memory stores 256 Gbits using a 3-D vertically stacked cell structure and 3-bit-per-cell triple-level cell technology. By employing this 48-layer vertical stacking process, BiCS flash surpasses the capacity of conventional 2-D NAND flash memory, where cells are arrayed in a planar direction on a silicon plane.
BiCS also enhances write/erase reliability endurance and boosts write speeds. The 256-Gbit (32-Gbyte) device can be used in a myriad of applications, including consumer solid-state drives, smart phones, tablets, memory cards, and enterprise SSDs for data centers.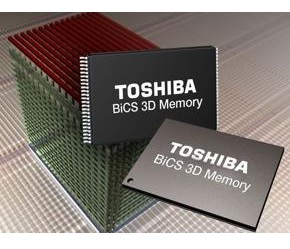 Since announcing the prototype BiCS flash technology in June 2007, Toshiba has continued development towards optimization for mass production. To meet further growth in the flash memory market in 2016 and beyond, Toshiba is proactively promoting migration to BiCS flash by rolling out a product portfolio that emphasizes large-capacity applications, such as solid-state drives. The company is preparing for mass production of BiCS flash in its new Fab2 facility at Yokkaichi, which is now under construction and will be completed in the first half of 2016.
Toshiba, http://toshiba.semicon-storage.com/us/top.html
Find more datasheets on products like this one at Datasheets.com, searchable by category, part #, description, manufacturer, and more.
Don't miss out on the latest products. Subscribe to EDN's weekly Products & Tools newsletter (free registration) for the latest product announcements and news.
For More Details: Toshiba launches 256-Gbit 48-layer 3-D NAND flash