Description:
The TLF4277-2 is the ideal companion IC to supply active antennas for car infotainment applications. The adjustable output voltage makes the TLF4277-2 capable of supplying the majority of standard active antennas such as:
• FM/AM
• DAB
• XM
• SIRIUS
The TLF4277-2 is a monolithic integrated low drop out voltage regulator capable of supplying loads up to 300 mA.
For an input voltage up to 40 V the TLF4277-2 provides an adjustable output voltage in a range from 5 V up to 12 V. The integrated current monitor function is a unique feature that provides diagnosis and system protection functionality. Fault conditions such as overtemperature and output overvoltage are monitored and indicated at the current sense output. The maximum output current limit of the device is adjustable to provide additional protection to the connected load.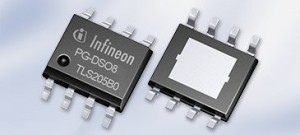 Via the enable function the IC can be disabled to lower the power consumption.
The PG-SSOP14 EP package provides an enhanced thermal performance within a SO8 body size.
Summary of Features:
Integrated Current Monitor
Adjustable Current Limitation
Adjustable Output Voltage
Overvoltage Detection
Output Current up to 300 mA
Very Low Current Consumption
Very Low Dropout Voltage
Wide Input Voltage Range up to 40 V
Reverse Polarity Protection
Short Circuit Protected
Overtemperature Shutdown
Digital status output for fault conditions
Automotive Temperature Range -40 °C ≤ T j ≤ 150 °C
Green Product (RoHS and WEEE compliant)
AEC Qualified
FOr More Details: TLF4277-2EL