Description
The OPA1662 (dual) and OPA1664 (quad) series of bipolar-input operational amplifiers achieve a low 3.3 nV/√Hz noise density with an ultralow distortion of 0.00006% at 1 kHz. The OPA1662 and OPA1664 series of op amps offer rail-to-rail output swing to within 600 mV with 2-kΩ load, which increases headroom and maximizes dynamic range. These devices also have a high output drive capability of ±30 mA.
These devices operate over a very wide supply range of ±1.5 V to ±18 V, or +3 V to +36 V, on only 1.5 mA of supply current per channel. The OPA1662 and OPA1664 op amps are unity-gain stable and provide excellent dynamic behavior over a wide range of load conditions.
These devices also feature completely independent circuitry for lowest crosstalk and freedom from interactions between channels, even when overdriven or overloaded.
The OPA1662 and OPA1664 are specified from –40°C to +85°C.
Features
Low Noise: 3.3 nV/√Hz at 1 kHz
Low Distortion: 0.00006% at 1 kHz
Low Quiescent Current:
1.5 mA per Channel
Slew Rate: 17 V/µs
Wide Gain Bandwidth: 22 MHz (G = +1)
Unity Gain Stable
Rail-to-Rail Output
Wide Supply Range:
±1.5 V to ±18 V, or +3 V to +36 V
Dual and Quad Versions Available
Small Package Sizes:
Dual: SO-8 and MSOP-8
Quad: SO-14 and TSSOP-14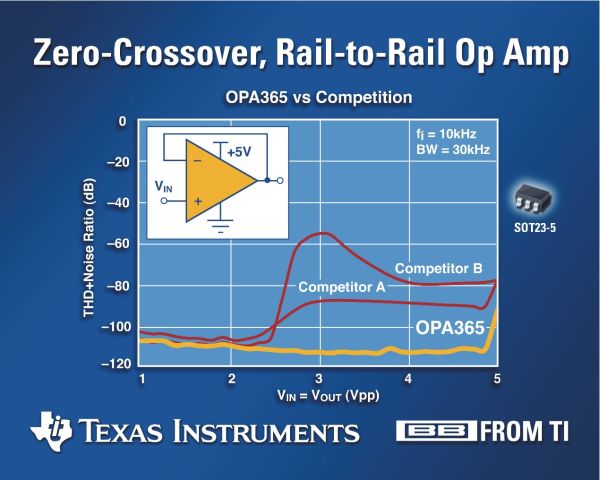 Texas Instruments has introduced two bipolar input op amps for sound mixers and USB audio systems.
Called OPA1662 (dual) and OPA1664 (quad), quiescent current is 1.5mA per channel with 3.3nV/?Hz noise density and 0.00006% total harmonic distortion plus noise at 1kHz.
"These op amps are targeted at USB and FireWire audio systems, analogue and digital mixers, portable recording systems, and other applications that require the highest noise performance combined with low power consumption," said the firm.
Gain bandwidth is 22MHz, slew rate is 17V/µs, and the amps will operate from +/-1.5 to 18V dual rails or 3 to 36V single rail.
"System designers can build an audio signal path by combining the OPA1662 or OPA1664 with the PCM1792A 24bit, 192kHz sampling, stereo audio DAC," said TI.
The 1622 comes in SO-8 and MSOP-8 packages, and 1664 in SO-14 and TSSOP-14.
For more read: TI aims at audio with low-noise low-power op amps