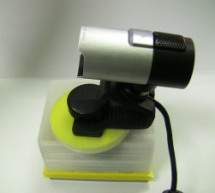 The camera controller box is an easy way to rotate a webcam from a PC or remotely through the internet. Step 1: Materials and 3D files In this project I used a Teensy 2.0 micro-controller since it was available, but you can use any other MCU like an ATtiny85 or an atmega328. The servo model number is S9001. I designed a place for a weight on the base part, in order to prevent vibrations and to keep the came ...
Read more

›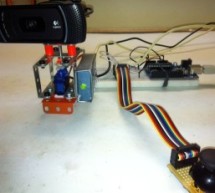 This is an instructable to show how to mount a webcam on a servo in a meccano frame and controlling it via an Arduino board. For a while now I was looking to do something more than blinking LEDs with my Arduino. This idea came to me while Skyping in our morning-meet with my colleagues to enable them to control what they see in our office. So on a rainy  Sunday afternoon a while back I pitched it to a buddy ...
Read more

›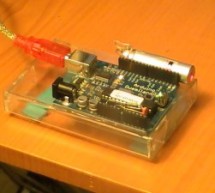 This instructable will show you how to construct a laser tripwire that can twitter and grab an image from a webcam, as well as execute any command you can put in a bash script. This instructable is actually quite simple and is even suitable as a beginner arduino project. It requires a GNU/linux (or possibly Mac) operating system with the arduino IDE and Processing IDE working properly. This project could al ...
Read more

›
YOU WILL NOT FIND OTHER ITEMS AS DETAILED IN WHOLE INTERNET In this article I provide a list of components and links of purchase to create your drone (quadricopter) remote-controlled from a PC. Who has not dreamed at least once to have a toy really send out by Hi Tech.A tutorial finished you will have a drone in a workmanlike manner. We start from the key point. What to buy? Hardware Required: 1x Arduino UN ...
Read more

›
Web-enable your interactive sensors over desktop, smartphone and tablet devices. This tutorial describes in detail how to use the free SensorMonkey service to remotely control a pan and tilt webcam attached to an Arduino using nothing more than a simple webpage. The webpage can be viewed on any desktop, smartphone or tablet device with a compatible web-browser. I use the jQuery UI library to provide interac ...
Read more

›