Wearable computing, e-textiles, soft circuits or whatever you want to call it, is a growing field of applying technology to garments or accessories like bags, shoes or backpacks.  It is a fun and creative challenge which goes beyond just adding LED lights to fabric.  For a primer, you must check out the work of Lynne Bruning. Of course, to make things light up really cool, you need some kind of microprocess ...
Read more

›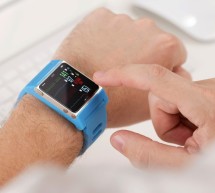 Wearable technologies that incorporate physiological sensors are appearing on the market in so-called smart watches. Next generation monitoring devices will be worn on the body to monitor conditions such as blood glucose levels in near-real time and allow them to collect considerably more data over the course of a day. Initial examples of this novel approach such as wristbands that are capable of measuring ...
Read more

›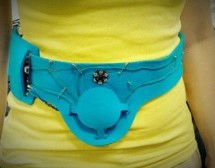 After  participating to Codemotion Rome last month, from the 9th of  May we'll be spending a couple of days at Codemotion Berlin,  an innovative tech event engaging developers of all languages and technologies. We're having an Arduino wearables workshop organized together with Kobakant duo (Mika Satomi and Hannah Perner-Wilson) and focused on the use of Lilypad. In these 8 hours workshop we'll explore how c ...
Read more

›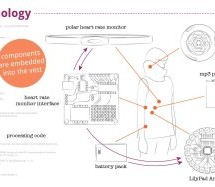 I'm reblogging from Core77 this interesting wearable project because I'd like to highlight the using of Arduino Lilypad board: Bio Circuit stems from our concern for ethical design and the creation of media-based interactions that reveal human interdependence with the environment. With each beat of the heart, Bio Circuit connects the wearer with the inner workings of their body. It was created at Emily Carr ...
Read more

›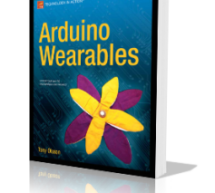 Book Description You've probably seen LED-decorated t-shirts and hats, and maybe even other electronic gadgets embedded in clothing, but with Arduino Wearables you can learn to make your own wearable electronic creations. This book is an introduction to wearable computing, prototyping, and smart materials using the Arduino platform. Every chapter takes you all the way from idea to finished project. Even if ...
Read more

›