TI's new HDC1000 integrated humidity and temperature sensor provides high accuracy and low power in a small, dust-resistant package. Designers of building control equipment can implement accurate, energy-saving climate control in small spaces, while designers of home appliances and consumer goods can easily add humidity-sensing capabilities to their products. High accuracy, low power The HDC1000 consumes on ...
Read more

›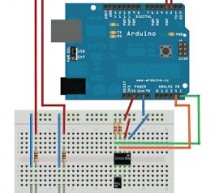 If you ever wanted to integrate touch sensitivity into your project, this board could just do the trick. It's a capacitive touch sensor. These sensors are used in our everyday consumer electronics like notebook trackpads, video game consoles, touchscreens...just to name a few. They work on the principle of alteration of the electrostatic field. The sensor builds up an electrostatic field which will be alter ...
Read more

›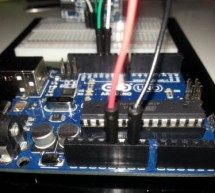 his is a preliminary instructable that will take you through the steps I took to get the SR04 ULTRASONIC SENSOR  connected  and working to the Arduino. It will then be incorporated to my mini environment monitor.  Eventually, if it all fits, it will end up in a Startrek  toy tricorder casing I found in my junk box.. Step 1: Connecting the SR04 Ultrasonic Sensor to the Arduino Step 2: Parts List 1           ...
Read more

›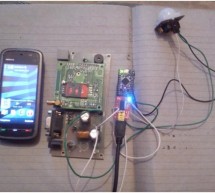 In present time Home/Office and many other place security is most important. In our absence these places are not secure. For make these palaces secure many peoples keep guards and many people prefer electronic security systems. In present time many types of security systems are available in market. These security systems are very accurate and easy to control and cheaply available and the most important thin ...
Read more

›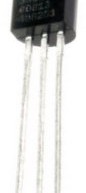 In this project, we will demonstrate how to build temperature sensor circuit using a TMP36 sensor. As a temperature sensor, the circuit will read the temperature of the surrounding environment and relay the temperature to us back in degrees fahrenheit. The IC we will use to measure the temperature is the TMP36 IC. We will integrate this with the arduino to measure the temperature. The arduino will then read ...
Read more

›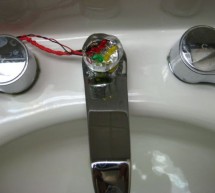 Water is a precious resource. Millions of people do not have access to clean drinking water, and as many as 4000 children die from water contaminated illnesses every day. Yet, we continue to be wasteful with our resources. The overarching goal of this project is to motivate more sustainable water use behavior and raise awareness about global water issues. This is an instructible on how to crudely detect wat ...
Read more

›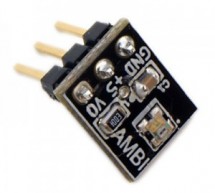 Product Description This is a light sensor that I've been waiting for, for a long time. If you use photo cells or phototransistors, or other light sensors such as the useful TAOS TSL series, you know that every one leaves something to be desired. In robotics for example, sensors either tend to saturate in dark corners under tables, or else in bright sunlight when they go for walks outside, rendering the rob ...
Read more

›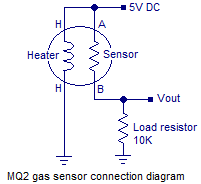 LPG sensor using arduino with alarm and cutoff. A simple LPG sensor using arduino is shown in this article. This circuit indicates the amount of LPG in the air. The circuit  sounds an alarm and trips a relay  when the concentration is above a predetermined level. MQ2 is the gas sensor used in this project. MQ2 is an SnO2 based gas sensor which can sense gases like methane, propane, butane, alcohol, smoke, h ...
Read more

›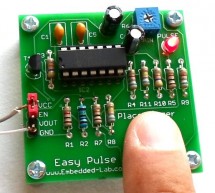 Meet Easy Pulse: A kit that includes all it needs to make a DIY heart rate sensor. Although it is not built using an Arduino, it is still open and easy to build. From the site: "This project is based on the principle of photoplethysmography (PPG) which is a non-invasive method of measuring the variation in blood volume in tissues using a light source and a detector. Since the change in blood volume is synch ...
Read more

›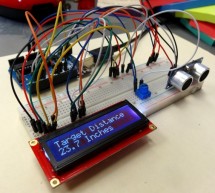 In LESSON 18 you learned how to use an ultrasonic sensor to measure distance, and in LESSON 19 you learned how to connect an LCD to the arduino. In this lesson we will combine what you have learned to create a circuit for measuring distance, and displaying results on an LCD display. - for-measuring-distance-with-ultrasonic-sensor/#sthash.n59B0VNh.dpuf You can use the schematic below to connect the circuit. ...
Read more

›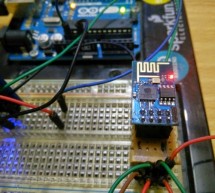 Its been a while i was searching for a cheap wifi module and with the help of smart-prototyping.com, i was able to get a module almost less than USD 5. To connect the module to breadboard for prototyping, i made a small jig to interconnect with the board easily. So i can wire up the device and interface anything to GPIO's. Be careful with the module cause the device it powered with 3.3V and both UART side l ...
Read more

›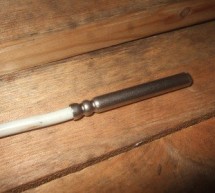 Description This module can be used to measure temperature using RTD (resistive temperature detectors) temperature sensors. It produces an analog voltage that is proportional the temperature of the probe. The module contains a multiplexer to enable measurement of up to 4 temperature probes.  Design RTD Temperature sensors change their resistance with temperature. The resistance change is converted to a volt ...
Read more

›