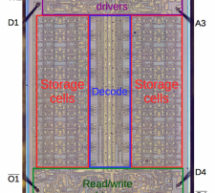 Intel's first product was not a processor, but a memory chip: the 31011 RAM chip, released in April 1969. This chip held just 64 bits of data (equivalent to 8 letters or 16 digits) and had the steep price tag of $99.50.2 The chip's capacity was way too small to replace core memory, the dominant storage technology at the time, which stored bits in tiny magnetized ferrite cores. However, the 3101 performed at ...
Read more

›
In Embedded system design, seven segment displays are playing a major role as numerical visual indications. Seven segment LED displays are brighter, more attractive and provide a far viewing distance as well as a wider viewing angle as compared to LCD displays. Its available wide dimensions (0.3 inch to 6 inch) and different colors (RED, GREEN, BLUE, ORANGE, WHITE). It can display digits from 0 to 9 and qui ...
Read more

›
A couple of weekends ago I was in the mood to do some retrogaming and didn't know what I wanted to play so I asked for some suggestions from Twitter. I played some Castle Wolfenstein, Snake Byte, BC's Quest for Tires, and Miner 2049er on the Apple IIe and then I wanted to try some games on my Apple IIgs. Unfortunately my IIgs has had intermittent issues for a long time, and it was looking like bad RAM might ...
Read more

›