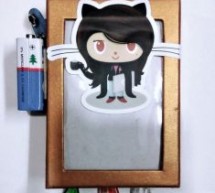 Are you the kind of person who's not good with managing keys and always have to try each key for every other lock? Well don't worry, just grab a little bit of motivation and your maker tools to innovate your very own voice controlled smart key holder. Because there's no problem too small or big that cannot be solved and there's no maker that cannot solve it. All you have to do is, just ask your smartphone a ...
Read more

›
Today you can hardly surprise anyone with a mobile phone with a camera, wireless gadgets and other technical advances. Thanks to the Arduino platform, millions of people have discovered the wonderful world of electronics and programming. 100,500 instructions were written on how to exchange data between a mobile phone and Arduino via bluetooth ... What am I talking about? Yes. I want to exchange data between ...
Read more

›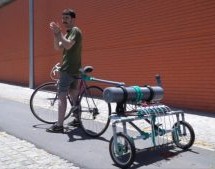 Graffiti is a controversial subject, and whether you see it as art or vandalism usually depends where and how you come across it. From the scribbled tag on a house wall, to highly sophisticated murals, they tend to have one thing in common though: making a statement — whether that's political, showing appreciation, or a simple "I was here". [Sagarrabanana] had his own statement to make, but chose a less per ...
Read more

›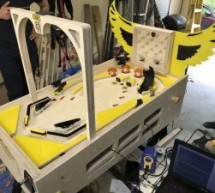 Ever since he was a young boy, [Tyler] has played the silver ball. And like us, he's had a lifelong fascination with the intricate electromechanical beasts that surround them. In his recently-completed senior year of college, [Tyler] assembled a mechatronics dream team of [Kevin, Cody, and Omar] to help turn those visions into self-playing pinball reality. You can indeed play the machine manually, and the A ...
Read more

›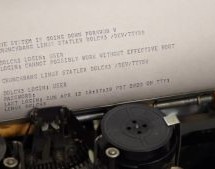 Buried deep within all UNIX-based operating systems are vestiges of the earliest days of computing, when "hardware" more often than not meant actual mechanical devices with cams and levers and pulleys and grease. But just because UNIX, and by extension Linux, once supported mechanical terminals doesn't mean that getting a teletype from the 1930s to work with it is easy. Such was the lesson learned by [Curio ...
Read more

›
Regardless of how strong a password is, or what level of code-based authentication a website is using, any system that sends codes in a text message can be hacked by a skilled hacker. The most secure way to set up two-factor authentication is to use a reliable app on a smartphone to generate those six-digit codes or to carry a piece of hardware that can verify user's true identity. A dev ...
Read more

›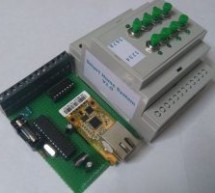 Hello, I am Michalis Vasilakis from Ardumotive.com and in this Instructables guide I will show you how you can easily make your own smart home system based on Arduino uno and an Ethernet module (or shield). You will be able to use this system from any device (mobile phone, pc, tablet) because the user interface (1st image) is accessible through a browser window. Because of that, it supports all op ...
Read more

›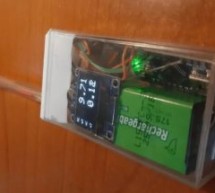 Instructables member "rgco" has published a great tutorial to the project site providing details on how you can create your very own DIY magnetometer or Gaussmeter to measure the strength of magnetic fields. A magnetometer is an essential tool to test the strength of permanent magnets and electromagnets and to understand the field shape of nontrivial magnet configurations. "If it is sensitive enough it can ...
Read more

›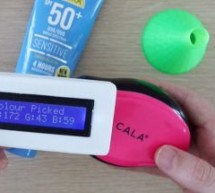 Off the shelf RGB colour pickers allowing you to extract and objects RGB values can range from a few hundred dollars to thousands depending on your needs. If you would prefer to build your very own portable RGB colour picker allowing you to extract colours in RGB valves from real like objects you may be interested in a new project published to the official Arduino blog this week. "If you want a red piece of ...
Read more

›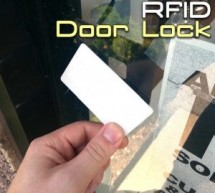 Here we are with the classic RFID door lock. It's classic in that whole, "We live in the future and take it for granted at this point" sense. In this tutorial, we will set up a door latch that can be opened with the swipe of an RFID Tag! We will program a list of acceptable 'key' cards that will unlatch the door for a specified amount of time. This is a really simple project, but it does require that you al ...
Read more

›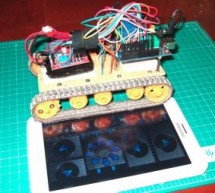 https://youtu.be/J3DwgZvD2js After trying to remote tracked robot by IR remote control.I have proceed to control same robot platform by Bluetooth Arduino controller via Android application.This method is more reliable,longer distance,pretty Android application enhancement. Same principle,low cost play and home level technical skill.Programming khownledge is not necessary. Thanks for free download Ardui ...
Read more

›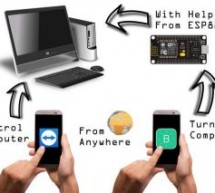 https://youtu.be/QhhOxIe02Ok Have you ever wanted to start your computer while you are away from home to access some files? Or maybe you wanted to start a download of a new game, so that it would be done when you got home. This project will show how to start and control your computer from anywhere in the world. We will use a NodeMCU and the Blynk app to start the computer. After it has been turn on, the Tea ...
Read more

›