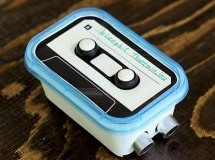 We don't think [bleepbit] will take offense when we say the "poor man's theremin" looks cheesy — after all, it was built in a cheese container. Actually, it isn't a bad case for a simple device, as you can see in the picture and the video below. Unlike a traditional theremin, the device uses ultrasonics to detect how far away your hand is and modifies the sound based on that. There are also two buttons — on ...
Read more

›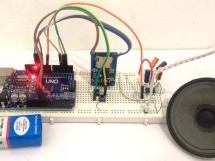 Adding sounds or music to our project will always make it looks cool and sounds much more attractive. Especially if you are using an Arduino and you have lots of pins free, you can easily add sound effects to your project by just investing in an extra SD card module and a normal speaker. In this article I will show you how easy it is to Play music/add sound effects using your Arduino Board.  Thanks to the A ...
Read more

›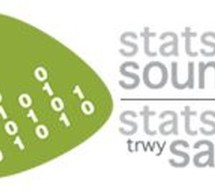 This walk-through will show you how to build a sensor to monitor your plant's environment and use Stats in Sound's ERC-20 app to turn this data into music, allowing you to listen to your plant's reaction to it's environment.  For more information on this project, please visit www.statsinsound.org.uk. Below is a sample of music generated by the ERC-20 app, monitoring a happy healthy chilli plant. You will ne ...
Read more

›
This example shows how to play notes on the buzzer mounted on the Arduino Esplora. Buzzers can generate different audio signals in audible frequency ranges. A note is an audio signal at a specific frequency. If you know the frequency of the notes you want to play, you can start to compose a melody. In this example, you move the slider to generate different notes, and play them by pressing the down push-butt ...
Read more

›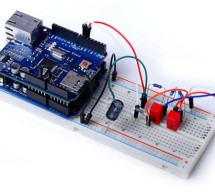 Our NetPlay project is built on a standard breadboard. In our previous Arduino masterclass we briefly introduced the Ethernet Shield an Arduino expansion board that adds Ethernet connectivity plus microSD card storage. We used that storage as the basis of a simple one-button digital audio player. It was functional but limited to 8-bit mono WAV files with a 19kHz sample rate. We also gave you the software to ...
Read more

›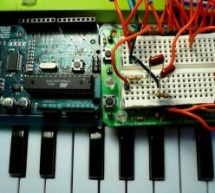 Are you a musician, music amateur, electronic bricoleur or maker who makes music by creating your own instruments and tools using Arduino? We are looking for your music tracks to be presented in a radio program entirely dedicated to (DIY) music made with Arduino based synths and instruments.The program is scheduled within the GwenFestival program, an international music and radio festival organized in Chias ...
Read more

›
Makeblock is an aluminum extrusion based construction system that provides an integrated solution for aspects of mechanics, electronics and software design. With Makeblock you can make professional robots, toy machines or even art-ware. It's super easy-to-use and helps bring your creations to life. The only limit is your imagination. For more information, please visit Makeblock website listed below: www.mak ...
Read more

›