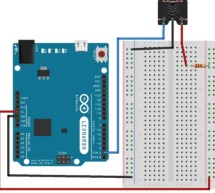 Introduction If you completed any of the buzzer projects, you will know by now that there is much fun to be had in making the Arduino create noises. The only issue you might have had is with the quality of the sound. Since MIDI is a serial protocol and the Arduino can generate messages on the serial port, we can use an Arduino to send MIDI signals to a PC and have the PC play the noises using a MIDI synthes ...
Read more

›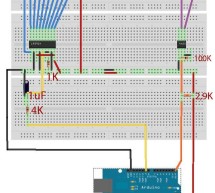 Hello everybody, I've been working on a midi controller for some time now, Midi OUT hasn't been a problem, but for Midi IN i had to take some more time. i've used this circuit for midi input but i've used a 4n25: original thread @ http://www.arduino.cc/cgi-bin/yabb2/YaBB.pl?num=1187962258/ it works great! but for my project i need VU meters, i thought this wouldn't be a problem, because i could easily say t ...
Read more

›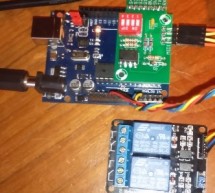 This project uses relays to control a Firgelli Automations linear actuator without feedback. The relays are controlled by the MIDI Volume (Control Change number CC7) command which is read by the microcontroller and converted into one of the only 3 states of operation: 1) The Linear Actuator is stopped, 2) The Linear Actuator is extending, 3) The Linear Actuator is retracting. Using the MIDI Volume CC7 comma ...
Read more

›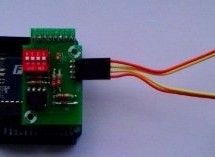 MIDI BASS PEDAL ARDUINO UNIT The MIDI Bass Pedal circuit is capable of encoding any number of momentary action, push to make, single pole single throw (SPST), switches from 1 up to 30 to produce the equivalent MIDI note-on/note-off data commands. The encoded switches are wired via IN4148 diodes. The keys are arranged in an 6 x 5 (30 keys) matrix, for up to a two and a half octave range. The  MIDI start Note ...
Read more

›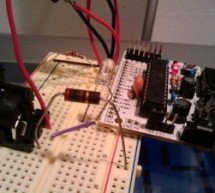 A friend of mine wanted to control Cubase, his audio recording software, with a push button so that he could stop and start recordings remotely without having to go over to the computer and type on the keyboard. You may be able to do this in other recording software, we just happen to use Cubase. Step 1: What you need Normally open push buttons (one for every action you want to perform like these) 10K-Ohm r ...
Read more

›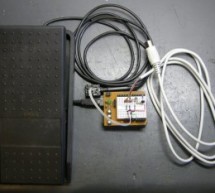 I'm playing keyboards this fall in another rock concert to benefit the high school robotics team, and for some of the tunes I need to be able to fade an organ in and out over a period of a measure or two. My keyboards are velocity-sensitive, so if you hit the keys harder they play louder (like a piano); and they have aftertouch, so if you press down extra-hard on the keys you can get special effects. But th ...
Read more

›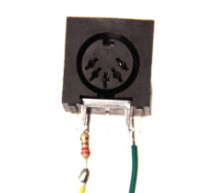 This instructable will show you how to use an Arduino to send and receive a variety of MIDI messages so you can start building your own MIDI controllers and instruments.  First I'll talk a little bit about MIDI protocol, if you're just looking for sample code skip ahead to steps 5-9. If you know absolutely nothing about MIDI note, velocity, and pitchbend or are confused about what MIDI does and why you woul ...
Read more

›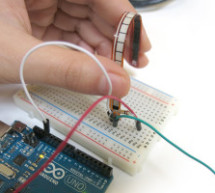 Now that you're up to speed on using Arduino's inputs and outputs, this Instructable will give you everything you need to get started using sensors to trigger MIDI notes from Arduino. This post is the last installment in a series of workshops I led at Women's Audio Mission. The first two classes are Intro to Arduino and Working with Arduino Inputs and Outputs. Parts List: (1x) Arduino Uno Amazon or you can ...
Read more

›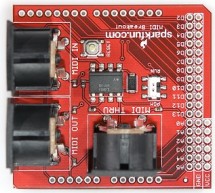 MIDI Breakout Shield description: The MIDI Breakout board gives your Arduino access to the powerful MIDI communication protocol. The MIDI protocol shares many similarities with standard asynchronous serial interfaces, so you can use the UART pins of your microcontroller to send and receive MIDI event messages. The MIDI Breakout provides both MIDI-IN and MIDI-OUT connections, as well as a MIDI-THRU port. The ...
Read more

›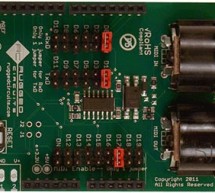 Flexible MIDI Shield description: MIDI IN and MIDI OUT connections, flexible choice of which I/O pins are assigned to each connector, switch-less uploading of sketches, opto-isolated and protected MIDI ports. Flexible MIDI Shield specification: Flexible MIDI Shield pinout: Note: Any ONE of pins D0,D2,D4,D6,D8,D10 are used for MIDI IN. Any ONE of pins D1,D3,D5,D7,D9,D11 are used for MIDI OUT. Any ONE ...
Read more

›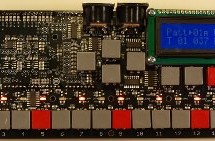 Beat707 Shield description: 32 step machine, (plus 32 double-steps for a total of 64 steps) with 16 step buttons and LEDs, LCD screen and navigation keys. It\'s like the classic Roland TR707 but with some twists, as it actually has 64 x 1/32 or 32 x 1/64 steps. The 2 note-step sequence feature allows you to do bass and/or synth grooves. The unit doesn\'t produce any sound, it\'s all MIDI based, so you can u ...
Read more

›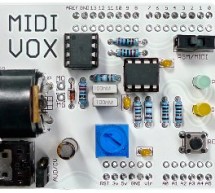 MidiVox Shield description: MidiVox turns an Arduino board into a programmable MIDI synthesizer. The shield provides an isolated MIDI input jack along with a single-channel, 12-bit, digital audio output. Any MIDI keyboard with a DIN-5 output can be used to control the shield. Assignable knobs/faders on your controller will come in handy for modifying synth parameters as you play. Intended for use as an expe ...
Read more

›