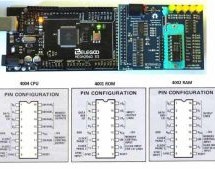 This weekend marked the 49th anniversary of the legendary Intel 4004 microprocessor, and to celebrate [Erturk Kocalar] combined the old and new in this intriguing Retroshield 4004 / Busicom 141-PF calculator project. We have reported on his Arduino shield project before, which lets you connect a variety of old microprocessors to an Arduino so you can experiment with these old chips with a minimum of fuss. [ ...
Read more

›
To get started with Arduino, you'll need some basics. In this tutorial, we'll go beyond a little blinky light and teach you about: VariablesInput and Output pinsSensors and reading dataMapping resultsFunctions In another tutorial, I'll cover classes and why we might use them. But, we might still make a little light blink... Just because... Hello, World! Ok. Bad joke. This will be fairly simple, bu ...
Read more

›
Vdd brownouts are among the most common antipodes of microcontroller design – they are especially annoying, as their presence is not easy to detect. Diodes Incorporated provides a new family of easy-to-use supply voltage monitor ICs. From a principal point of view, the parts are not difficult to understand. Simply connect them to VCC and ground, thereby allowing the chip to keep an eye on the supply. After ...
Read more

›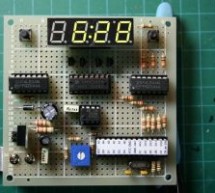 This Arduino based digital clock is synchronized by the 60Hz power line. It has a simple and inexpensive common anode 4 digit 7 segment display which shows hours and minutes. It uses a cross over detector to detect when the incoming 60Hz sine wave crosses the zero voltage point and derives a 60 Hz square wave. Over short time periods the frequency of the incoming sine wave from the power line may vary very ...
Read more

›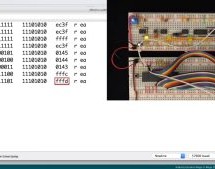 In the very early days of the PC revolution the only way to have a computer was to build one, sometimes from a kit but often from scratch. For the young, impoverished hobbyist, leafing through the pages of Popular Electronics was difficult, knowing that the revolution was passing you by. And just like that, the days of homebrewing drew to a close, forced into irrelevance by commodity beige boxes. ...
Read more

›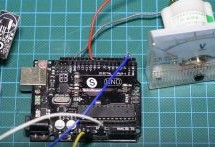 Introduction Sometimes, it is necessary to add a temperature indicator into your projects. Therefore, in this tutorial you will learn how to hack your analog Voltmeter and convert into an analog Thermometer using Arduino and a DS18B20 temperature sensor. DS18B20 Module In the first place, the Maxim DS18B20 digital thermometer provides 9-bit to 12-bit Celsius temperature measurements and has an alarm functio ...
Read more

›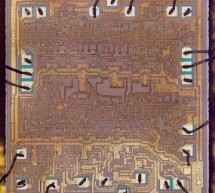 The 74181 ALU (arithmetic/logic unit) chip powered many of the minicomputers of the 1970s: it provided fast 4-bit arithmetic and logic functions, and could be combined to handle larger words, making it a key part of many CPUs. But if you look at the chip more closely, there are a few mysteries. It implements addition, subtraction, and the Boolean functions you'd expect, but why does it provide several bizar ...
Read more

›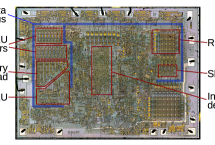 A computer's arithmetic-logic unit (ALU) is the heart of the processor, performing arithmetic and logic operations on data. If you've studied digital logic, you've probably learned how to combine simple binary adder circuits to build an ALU. However, the 8008's ALU uses clever logic circuits that can perform multiple operations efficiently. And unlike most 1970's microprocessors, the 8008 uses a complex car ...
Read more

›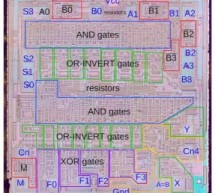 What's inside a TTL chip? To find out, I opened up a 74181 ALU chip, took high-resolution die photos, and reverse-engineered the chip.1 Inside I found several types of gates, implemented with interesting circuitry and unusual transistors. The 74181 was a popular chip in the 1970s used to perform calculations in the arithmetic-logic unit (ALU) of minicomputers. It is a moderately complex chip containing abou ...
Read more

›
The DueProLogic makes programmable logic easy with an all inclusive development platform. It includes an Altera Cyclone IV FPGA, on board programming, four megabit configuration flash, and an SD connector for add on memory. You can create your HDL code, program it into the flash and interact with the hardware via a Windows PC. This is the FPGA (Field-Programmable Gate Array) development board and runtime en ...
Read more

›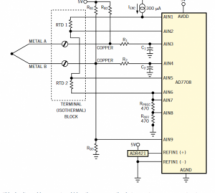 The accuracy of any circuit or system that uses a thermocouple to determine the temperature of a process is limited by the accuracy of the method used to perform cold-junction compensation. In a thermocouple measurement, two wires of dissimilar metal join together at the "hot," or measurement, junction. The isothermal termination of the thermocouple wires provides a second "cold," or reference, junction. Th ...
Read more

›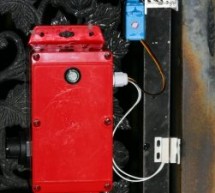 The Arduino Gatekeeper is an IoT-connected authenticator for outdoor gates and doors. No longer are keys required for secure backyards! Things used in this project Story Introduction The Arduino Gatekeeper is an IoT-connected authenticator for outdoor gates and doors (or anything else that can be monitored with reed switches). The first function of the device is to remotely monitor when gates are opened or ...
Read more

›