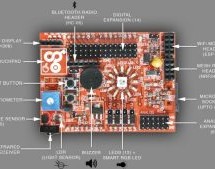 When you are waiting for a very important letter to come, it's really bothersome to go and check the post box again and again. The problem gets worse when you are not at home and anxiously thinking if the letter arrived or not. Well, now IoT or Internet Of Things is your savior. Following this project by CuriosityGym, you can make your own smart IoT post box that sends you an email as soon as a letter is dr ...
Read more

›
A light-dependent resistor (LDR) whose resistance is inversely proportional to the intensity of light is often used as a sensor in electronic projects that involve the use of light. This LDR based DC motor speed control project uses an LDR to control the speed of a DC motor. The objective of this project is to see how much faster the motor moves when a hand is brought closer to it. This circuit could be ver ...
Read more

›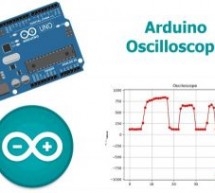 Arduino Based Real-Time Oscilloscope The Oscilloscope is one of the most important tools you will find on the workbench of any electronics engineer or maker. It is primarily used for viewing waveform and determining voltage levels, frequency, noise and other parameters of signals applied at its input that might change over time. It is also used by embedded software developers for code debugging and technici ...
Read more

›
You can download our e-book 'Learn Arduino from Scratch' from this link Few weeks ago I heard my nephew (aged 7) complaining of the dark at night. Basically he was afraid ? So I decided to put knowledge into practice and build a night lamp for kids. Since the project was intended for kids, I thought of making the lamp change color every now and then. It should also be sensitive to light so that if the room ...
Read more

›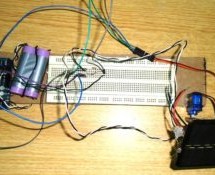 In this article we are going to make a Solar Panel Tracker using Arduino, in which we will use two LDRs (Light dependent resistor) to sense the light and a servo motor to automatically rotate the solar panel in the direction of the sun light. Advantage of this project is that Solar panel will always follow the sun light will always face towards the sun to get charge all the time and can provide the supply t ...
Read more

›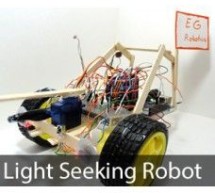 LDR Robot with IR and a Servo The LDR/IR Robot is designed to seek out light and avoid obstacles. The robot uses the Light Dependent Resistor to seek out light and the Infrared Sensor to detect and avoid objects in its path. The following are instructions with pictures to show exactly how we built our robot. Your robot can be designed the way you desire and in your own order. At the end of this manual you w ...
Read more

›