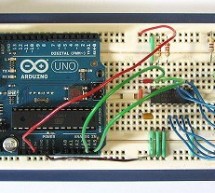 This tutorial shows how to interface eight LEDs to an Arduino using only two Arduino pins. This is made possible by using a PCF8574 I/O expander IC. A "Knight Rider" display is shown on the LEDs. Prerequisites Complete tutorial 4 – Arduino Knight Rider. Be able to use DIP IC packages, e.g. from tutorial 17. Components In addition to an Arduino Uno board, USB cable, wire links and a breadboard, you will need ...
Read more

›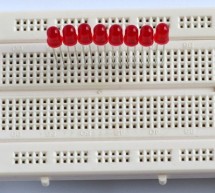 In this tutorial, eight LEDs are interfaced to the Arduino Uno board. This is not complicated – it is just like interfacing a single LED to the Arduino as done in tutorial 3, but eight times over. A program is then loaded to the Arduino that will turn the eight LEDs into a "Knight rider" display. The following video shows what you will achieve: Can't see the video? View on YouTube → Prerequisites You will n ...
Read more

›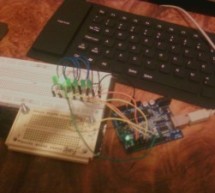 This a Knight Rider Style LED Chaser Done with a Arduino Duemilanove with an ATmega328 chip. Step 1: Things you'l need: 6 LEDs (any color) 1 Breadboard 1 100 Ohm Resistor 12 Breadboard Jumpers 1 Arduino Duemilanove "or" Decimila 1 USB cable with A-type connector on one end, and B-type on the other. (See photos) Arduino IDE software (www.arduino.cc) 1 PC or Laptop with Windows 98' or better Step 2: Follow th ...
Read more

›
Arduino Knight Rider light effect, a simple variation of blink code. Instruction; 1) Connect all LED as diagram below, make sure cathode lead of LED at ground wire. 2) Connect all 330Ω resistor to anode lead of LED. 3) Connect all jumper wire to digital pin 12, 11, 10, 9 and 8. Upload this code to your arduino /*   Knight Rider   Create LED chasing effect as knight rider light.   Coded by: arduinoprojects10 ...
Read more

›