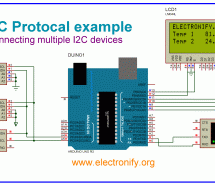 Hello every one ! welcome back ! It's nice to show you my new tutorial after long time .Today we will learn how to connect multiple I2C device (typically for demo temperature sensor ) to the Arduino Uno .I recommend download datasheet of that I2C device you are going to interface with Arduino before jump into coding. I2C communication Protocal I²C (also referred as IIC or TWI ) pronounced as I square C is w ...
Read more

›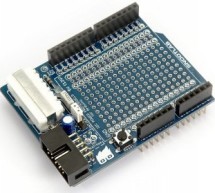 I2C Power Protoshield description: Designed for easy prototyping. I2C Power Protoshield specification: Soldering prototyping area I2C bus with pull-up resistors footprint Strengthened 3.3V and 5V on board and for Arduino through ATX PC power supply connector ATX PC power supply 12V on board with protection through a secured soldered bridge Power LED and reset switch on top 2Oz copper thickness to improve s ...
Read more

›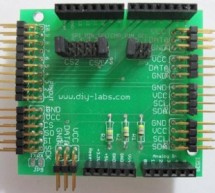 Breakout Board Shield description: I2C / SPI / OneWire breakout. Breakout Board Shield specification: 90 degree pins to make it easily stackable I2C bus is pulled high Onewire bus is pulled high 4 x I2C Hookups 6 x Onewire Hookups 2 x SPI hookups D2 - D11 are pinned out Onewire can be on pins D2, D3, D4 (jumper) SPI CS pin can be D5, D6, D7 OR D8, D9, D10 Breakout Board Shield pinout: For more detail ...
Read more

›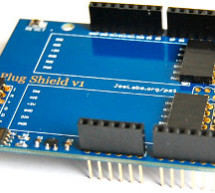 Plug Shield description: The Plug Shield allows using I2C-based JeePlugs with any Arduino or compatible clone. It acts as interface between the hardware I2C port and the plugs. There is a level converter on board, as well as a 3.3V regulator to supply power to the plugs. The reset button and ISP signals are duplicated on the shield. Plug Shield specification: Plug Shield pinout: Note: Pins A4 and A5 ...
Read more

›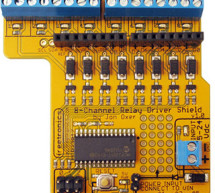 8-Channel Relay Driver Shield description: Drive up to 8 relays from your Arduino using just 2 I/O pins. Communicates with your Arduino using I2C, so you can stack several shields together to drive 16, 24, or more outputs. I2C connections are linked by default to Arduino pins A4 and A5, but can be switched to use the R3 headers using solder jumpers. This allows the shield to be compatible with older R2 boar ...
Read more

›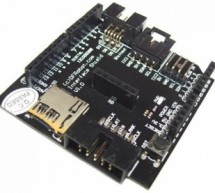 Interface Shield description: This shield supports multiple interfaces: SPI interface (directly connected Shiftout module, SPI LCD display module, SPI LED display module) IIC Interface (direct connects IIC lCD display module, IIC transfer IO module) Micro SD card interface (Micro SD card can be directly inserted) SD card storage module interface. TLC full-color LED controller module. Interface Shield specif ...
Read more

›
Colour reading is a real issue for industrial models. I've been working on it for more than 12 months now, since December 2009. After many months of hard work, • starting with the standard colour reader (season 1 ) with features a red LED, • adding extra light from bulb lamps (season 2 ), • using a powerful external white LED lamp (season 3 ), • changing the built-in standard red LED for a white LED (season ...
Read more

›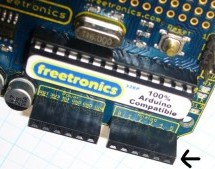 As promised, this week brings another communications tutorial! In this video, we'll use both the serial and processing knowledge that we gained last week, plus an I2C enabled temperature-sensing IC. [box type="note" color=" #202020 " bg="#ffbb00 " font="verdana" fontsize="14" radius="20 " border="#000" float="right" head="Attributes"]Thanks to Jeremy , for this articles[/box] We'll use processing to ...
Read more

›