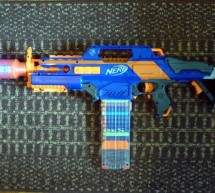 My previous Instructable covered the basics of detecting dart speed using an infrared emitter and detector. This project takes it a step further, using a printed circuit board, display, and batteries to make a portable ammo counter and chronograph. Additionally, we add some LEDs to simulate muzzle flash. Because, pew pew pew . . . Reading more about Arduino for Nerf: Chronograph and Shot Counter Arduino for ...
Read more

›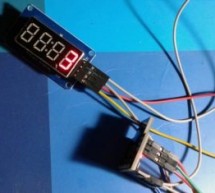 Microcontroller based miniscule event counter presented here is based on the inexpensive Digispark Attiny development board. One advantage of this design is that any type of active or passive switch can be connected to its trigger input. Whenever the switch closes event will be counted inside the microcontroller and would be displayed on the 4-digit LED display module, a type generally known as TM1637 LED D ...
Read more

›
People  or Visitor counters are pretty famous embedded application that was widely used in places like theaters, malls, Transport stations and so. High end counters uses sophisticated hardware to do the process of counting. Today we are about to see building of simple Visitor counter project using Arduino which uses IR as a tool for sensing people. This project can also be used to count objects as well prov ...
Read more

›
The Geiger–Müller counter is a relatively simple tool to measure ionizing radiation. To increase sensitivity, construction presented here contains three (instead of one as usually) soviet STS-5 lamps. This is important for measurements of natural sources of (low) radiation like soil, rocks (an article about my trip with Geiger–Müller counter on Śnieżka mountain). When high voltage (typically 380-420V) is ap ...
Read more

›
Many guys here were asking for a frequency counter and at last I got enough time to make one.  This frequency counter using arduino is based on the UNO version and can count up to 40KHz. A 16×2 LCD display is used for displaying the frequency count. The circuit has minimum external components and directly counts the frequency. Any way the amplitude of the input frequency must not be greater than 5V. If you ...
Read more

›
This is a simple 0 to 9 counter circuit constructed using Arduino! Here, a common cathode 7-segment LED display is connected to Arduino for displaying the digits. The code (Arduino sketch) allows push button increment of the counter from 0 to 9. The whole circuit can be powered from a standard 9V PP3/6F22 battery, or from any suitable Arduino power adaptor.The seven segment display is infact a very simple d ...
Read more

›
Many years ago, I think it was in 1997, I stepped into an interesting circuit on a book about high voltage [1]. It was the diagram of a simple "lightning flash counter" intended to help in designing lightning protections on power lines. The description was very brief, but following the bibliography reference, I could find the original article [2], published in May, 1972. I always had a fascination with ligh ...
Read more

›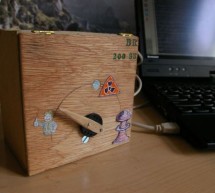 The following steps will enable you to build your own tweiger-counter! It searches in current twitter messages sent around the globe for the words like nuclear, calculates a sliding window average and pushes it to the arduino that will click for every incoming tweet like an original Geiger counter and will steer a servo as revmeter showing the current nuclear related posts on twitter. So the next time the t ...
Read more

›
Have you ever needed to count something? Sure, we all need to count change, count blessings, and occasionally count cards, but that's not really the kind of counting I'm talking about. In this Instructable, I will elucidate how Counting ICs operate, and show how to connect one to a microcontroller so you can see exactly how it works in a controlled way. Step 1: Why Use Counting ICs? Yes, yes, why not just u ...
Read more

›
Where the honeybee's division of labor has stayed on a steady progression for 25 million years... our human superorganism has grown more complex and in all directions... hence the bee counter... By:  thomashudson.org Live data from - June 25, 2012 I've moved away from live data... my version 2 has an SD card and I'm partnering with a university to do some research... feel free to make your own WIFI enabled ...
Read more

›
Many times, we often use LCD as display equipment, from tiny temperature monitors to large industrial equipment. The funny thing in this project is that it combines two Red LED Matrices as display. You don't need other devices except Arduino to drive it. This project is build for to counting the shipped with wifi support. If you are big a fan of pixel art, this project is your type. :) PS: if you want get m ...
Read more

›