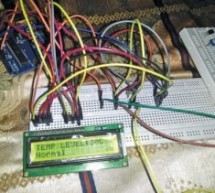 Monitoring the temperature of a transformer or electric motor winding involves data acquisition. This project is developed to monitor the temperature of an electric motor and a transformer with high accuracy, incorporating display and alarm facility. This circuit can be installed near a transformer winding or a motor's location, or it can be attached to either of these using suitable support. It can track t ...
Read more

›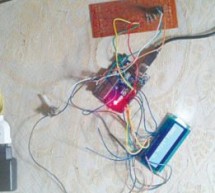 Metal oxide semiconductor field effect transistor (MOSFET) is a semiconductor device widely used for switching applications and amplifying electronic signals. While the facility to determine the type and pin configuration of bipolar junction transistors (BJTs) are available in digital multimeters (DMMs) used in the laboratory, most DMMs do not provide such features for MOSFETs. This Arduino-based project al ...
Read more

›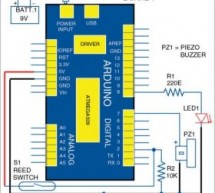 This Arduino based visitor alarm is useful for offices, clinics and shops. It alerts you to the entry of a visitor by producing a beep sound every time the door is opened. The alarm automatically switches off after a few seconds. Circuit and working Circuit diagram of the Arduino based visitor alarm is shown below. It is built around an Arduino Uno board (Board1), a reed switch (S1) and a piezo buzzer (PZ1) ...
Read more

›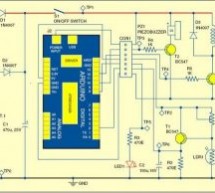 Shadow alarms are usually used for protection against theft. A shadow alarm is a device that sounds an alarm when a shadow falls on it. Described here is a simple circuit of an Arduino-based shadow alarm. This compact shadow alarm unit is capable of sensing a moving shadow in a restricted area, and can be easily installed on a wall, window or door to protect your valuables from theft. Constant lighting is r ...
Read more

›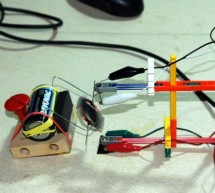 Over ten years ago, I put up a web page with detailed instructions on building a simple electric motor based on one from the Beakman's World TV show. I called it the "Beakman's Electric Motor" page and over the years it has had hundreds of thousands, if not millions, of hits. Realizing that just building a motor, no matter how cool, wasn't a good science fair project, I added suggestions for using the motor ...
Read more

›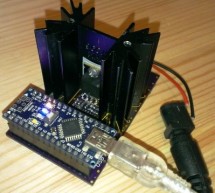 Summary: I designed an electric load. Using an Arduino Nano, the load can be programmed, and the voltage and current are measured. You can set a constant current (CC), a constant power (CP), or a constant resistance (CR) load by simply typing it in to the Arduino Serial Monitor. The circuit is designed for up to 30V, 5A, and 15W. An opamp, a mosfet, and a small sense resistor form the constant current circu ...
Read more

›