Station P1 Geek Mini PC is equipped with an all-aluminum alloy case and can be used immediately when powered on. It possesses Firefly Geek Entertainment System — Station OS on which the Desktop and Media modes can be switched randomly to finish daily office work or play games for fun.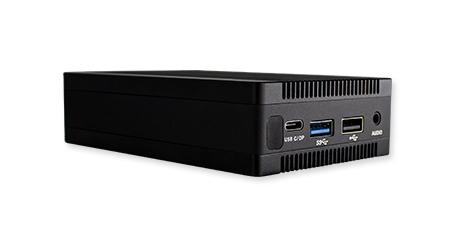 It can be easily updated to various systems like Android, Ubuntu and Phoenix OS, satisfying geeks' needs of operating multiple systems freely.
Portable Mini PC
As a hand-held device, it is small and portable enough to put in the pocket. You can carry it everywhere to work at any time.
Geek Entertainment System
It supports Firefly Geek Entertainment System — Station OS. The system has both Desktop and Media modes that support the seamless switching among study, entertainment, and office work.
Rich Interfaces
It possesses rich expansion interfaces including HDMI2.0 (up to 4K@60Hz), Type-C (DP1.2 video output + USB3.0), USB2.0, USB3.0 and gigabit Ethernet, etc.
Read more: STATION P1 GEEK MINI PC