Creating a smartphone application for your embedded products may be a high-cost process that consumes time and efforts. ImageCraft, a producer of high quality low cost embedded system tools, had developed "Smatr.IO" as a very cheap alternative solution that allows you to add a friendly user interface to any embedded project.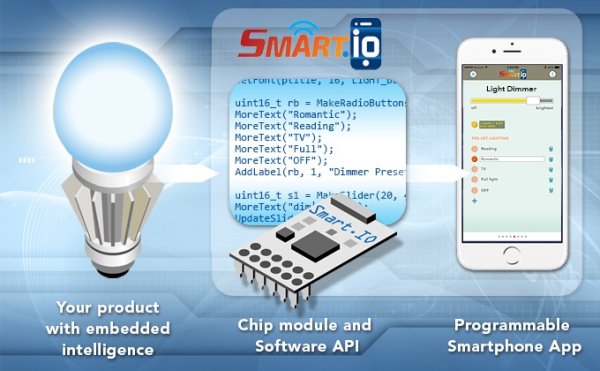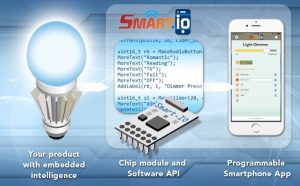 Smart.IO is a toolkit that helps you to create a compatible application with your product without the need of any experience in wireless technology or app development. It uses BLE (Bluetooth Low Energy) and it doesn't require an Internet connection or data plan.
Smart.IO consists of three parts:
A Small Chip Module compatible with any microcontroller.
A Software API for creating Graphical User Interface (GUI) objects.
A Programmable Smartphone App that requires only a Bluetooth connection to use.
There is no need to write any wireless code, or write an app. All you need is to add the Smart.IO chip to your existing microcontroller-based design, then use the API to create GUI objects in your firmware.
The Smart.IO Chip Module
The Smart.IO chip module is only 25mmx14mm. It has a 10-pin headers which are easy to solder onto your PCB, or use in a prototype system. It interfaces with your host microcontroller using SPI pins, plus extra pins for interrupts for data notification. Smart.IO draws very little power, typically about 100mA, and much less during standby mode.
If you are an Arduino user, ImageCraft will provide an Arduino-compatible shield that comes with a Smart.IO chip module, so that Arduino users can start using it immediately.
Read more: SMART.IO, An Affordable Remote Control for Embedded Designs