ScienceAlert Deal: Get This Arduino Starter Kit at Cyber Week Pricing
For aspiring experimenters, creators, and tinkerers, you must start your journey as a maker with the right tools.
Arduino, the wildly popular open-source microcontroller manufacturer, provides you the tools to remotely control your light switches and appliances, as well as build small robotics in your own home.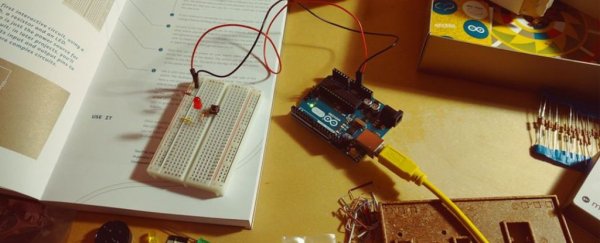 You don't need any special knowledge base or uncommon tools to start, you just need The Complete Arduino Starter Kit & Course Bundle. It's on sale today for over 85% off, just US$71.99 when you use code CMSAVE20 at checkout.
The kit comes with all of the tools you need – a Uno R3 board, a robust micro controller, wires, LEDs, sensors, and more – then gives you access to the courses that will teach you to use them.
Start your journey with the Crazy About Arduino End-to-End Workshops (Levels 1-3), which teach the basics of circuit board building and programming to work with them, then walks you through a complete Internet of Things development solution.
You can then graduate to the three additional courses that walk you through building real-world applications with your Arduino tools, including building your own robot.
You can access all those physical tools and hours of digital courses for only US$71.99, a 85% discount from the US$608.94 that you'd shell out if you bought each piece of this bundle individually, when you use code CMSAVE20 at checkout.
This is a promotional ScienceAlert Academy post, in partnership with StackCommerce. We carefully vet all courses and products to make sure they're relevant to our readers, and make a share in the profits of any sales.
Project Ratings:
Related posts