The IoT Cricket (£16) is a small package based on the ubiquitous ESP8266 chipset, popular for its solid wireless LAN support. ESP microcontrollers are widely available and some can be had for just a couple of pounds, so it may come as a surprise to see a British-designed and made product introduced to an already saturated market. Turns out there are a few things that make this device different from the rest.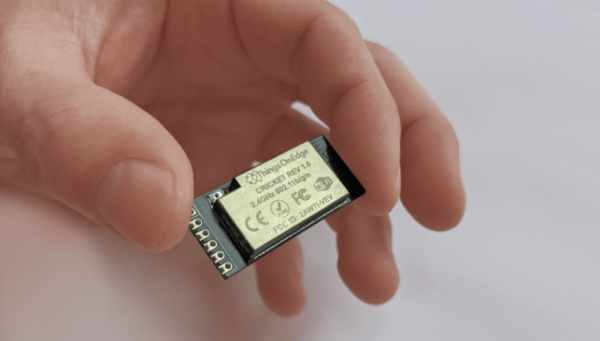 The IoT Cricket appears to have been designed around the philosophy of 'do one thing and do it well'. At first glance it may not seem like a good deal. It's more expensive than many similar controllers and lacks a full range of inputs as seen on Arduino-compatible ESP devices. In fact, the IoT Cricket boasts a total of one digital and one analogue input and a 3.3V output. This simplistic approach and some clever design solves one of the great headaches of ESP-based IoT devices: power. By combining a real-time clock into the design to control wake-ups as well as a 'wake up' line, it draws true 0A when idle. It can also operate on voltages from 1V up to 3.3V. This means you can power it from a single AAA battery for potentially months, even years, depending on activity.
Zero-code configuration
You can't write code for the IoT Cricket. Everything is configured using an on-board web interface (there is also an over-the-air solution). Placing it into configuration mode (using the smallest button we've ever seen) starts a wireless hot spot that allows you to set the behaviour of the device. Options include using the RTC to wake the device at given intervals, how to read inputs, and also what to do with the data. IoT Crickets support MQTT and HTTP GET or POST actions, making them instantly compatible with a huge range of monitoring and alerting services. Things On Edge even provides a free MQTT broker if you don't want to set up your own.
Programming microcontrollers is not for everyone (especially if you're using C), so this novel approach of configuring the IoT Cricket places the Internet of Things within the reach of a much wider audience. Even if you are accustomed to coding ESP devices, getting a simple project up and running with this approach is much quicker.
Things On Edge has provided several examples of projects using the IoT Cricket, including door sensors, wireless light controllers, motion detection, and more. There is also considerable documentation on integrating with services such as IFTTT and Home Assistant. They've even included an on-board temperature sensor (TMP1075DSG) so you can get started with no soldering. The online documentation can be a little hard to wade through, but seems to be constantly improving. All-in-all, it's a very impressive device if you want ultra-low power consumption and very easy setup.
Source: Review: IoT Cricket