The Renesas RA4W1 is the first Bluetooth 5.0 Low Energy fully compliant with 2Mbit High-Throughput (HT) and Long Range (LR) support in a single chip MCU of Renesas RA4 product series for IoT applications that require a high-performance Arm® Cortex®-M4 core at a very attractive price point.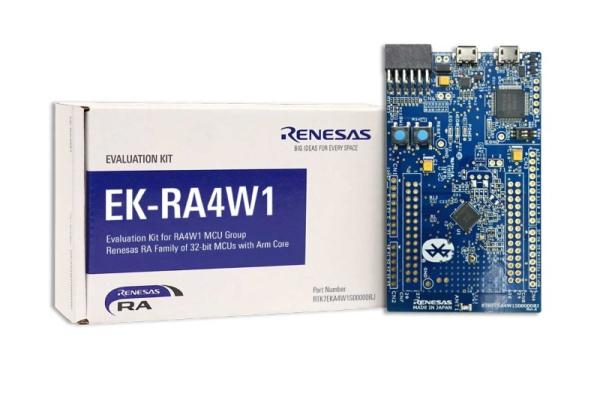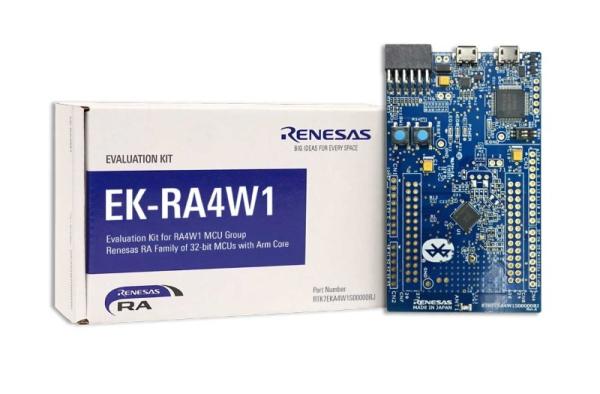 The RA4W1 is built on a highly efficient low power process and is supported by an open and flexible ecosystem concept, called Flexible Software Package (FSP), using FreeRTOS as base. RA4W1 is geared towards IoT application requiring Security, large embedded RAM and low power consumption.
Key Features
48MHz Arm® Cortex®-M4
512kB Flash Memory and 96kB SRAM
8kB DataFlash to store data as in EEPROM
7x7mm QFN 56 pin package.
Capacitive Touch Sensing Unit
Segment LCD Controller
USBFS 2.0 Full Speed (Host/Device) CAN 2.0B
SCI (UART, Simple SPI, Simple I2C)
SPI/ I2C Multimaster Interface2.4 GHz radio with Bluetooth 5.0 Low Energy
Advertising Extension and Long Range support
Secure Crypto Engine (AES128 / 256, GHASH, TRNG)
Benefits
Full functionality of Bluetooth 5.0 Low Energy along with the high-performance processing and superior power efficiency.

High Throughput and Long Range support

Integrated Secure Crypto Engine with several cryptography accelerators and Key management.
Large 96kB embedded SRAM suitable for handling communication stacks.
Applications
Security (Fire Detection, Burglar Detection, Panel control)
Metering (Electricity, Automated Meter Reading)
Industry (Robotics, Door Openers, Sewing Machines, Vending machines, UPS)
Health and Wearables Body Sensors
Read more: RA4W1 – 48MHZ BLUETOOTH® 5.0 LOW ENERGY SINGLE CHIP MCU FROM RA4 SERIES