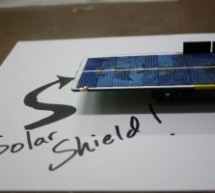 This instructable is a basic version of Bley Joel's ("It's nine o'clock on a Saturday, the regular crowd shuffles in") Solar Shield, and it should work for most arduinos.  I've tested it with SparkFun's Arduino Pro, and the new Leonardo. Myself and the other Solar Pocketeers* are actually waiting for a new set of PCBs for an advanced version of this solar shield to arrive on Wednesday Sept 5 (in 4 days), bu ...
Read more

›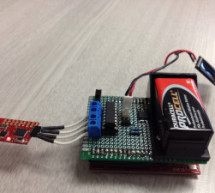 This page maintains the necessary documentation (hardware & software) for recreating the Solar Hardware Module ("Solar Module") using either Arduino UNO or TI Launchpad. Prior to creating the solar module, we performed several experiments using a custom built solar panel fixture. For more information on the solar panel fixture, see link below. Solar Panel Fixture Solar Module A Solar Module hardware was ...
Read more

›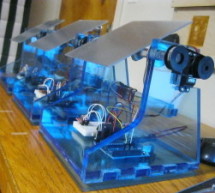 Introduction We aim to introduce young students to engineering and teach them about solar energy; by having them build a Helios as part of their curriculum. There is an effort in engineering to push energy generation away from the use of fossil fuels and towards greener alternatives. One option for greener energy is to use a device called a heliostat, which uses a mirror to direct the sun's light onto a tar ...
Read more

›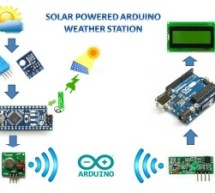 In country like India most of the people are dependent on agriculture.For effective planning in agriculture weather forecast is of utmost importance.So farmers are always interested in the Weather Forecasts.As farmers stay in remote areas, they have to wait for the news updates in tv, radio or news papers.Unfortunately this weather information is not the accurate data of their local environment rather it gi ...
Read more

›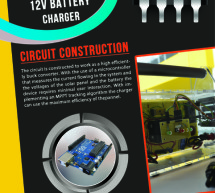 The following design is for a Solar battery charger ran by an Arduino Nano. It can handle a standard lead acid 12V battery, like for a scooter or a car. Furthermore the design has been tested and runs with 90% efficiency under 70ᵒC (158ᵒF). It can take up to 20V on the input site of the charger. Also in order to improve the efficiency a MPPT tracker is implemented in the code to ensure that the maximum powe ...
Read more

›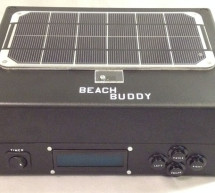 Imagine the ideal beach trip. The sun is shining, the skies are blue, the water is warm, and the humidity is low. You and your friends have everything you need to soak up the sun, sand and surf: a cooler filled with drinks and snacks, sunblock, flip flops, the coolest new swimwear, and the newest beach tech: the beach blanket/towel with corner pockets to fill with sand so it won't blow away; the sun shade w ...
Read more

›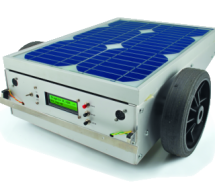 This robot will mow the grass of your garden, staying within a defined area, avoiding all obstacles and working in complete autonomy, automatically charging itself with a solar panel. In this post we present a robotic lawn mower, powered with solar energy and able to operate just with the clean energy from the sun; this one is a great difference from the commercial projects having a robot in need of a charg ...
Read more

›
A fountain can make a nice decorative fixture for your garden. But it isn't always easy to run a power cord out to where you want it. So I decided to run it on solar power. The system is controlled by an Arduino. This allows you to save energy by programming when the fountain will be turned on. Step 1: Powering the Fountain A standard solar panel and battery provide the power for the fountain and the contro ...
Read more

›
You know theremins, right?  Those cool-looking boxes with antennae that produce noise without being touched?  They are played by the likes of Jimmy Page of Led Zeppelin, and present in the soundtracks of countless films.  Well, with this instructable, I will show you how to build an approximation of a theremin (in principle, at least) using some basic electronics built on top of an Arduino, which I call a g ...
Read more

›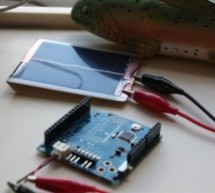 Here's a six word tragedy: My arduino needs four AA batteries. Really?  Isn't this 2012?  Where's my jetpack?!! Here's a way to the future -- a way to make a solar panel, from scratch, that can power any arduino off of sunlight or even light in your house.  Sort of a peel-and-stick power source for your projects. Time to complete:  15 minutes No soldering required Difficulty level:  Easy as pie (key lime) L ...
Read more

›