At the place I work, we use xymon to monitor of our servers. All of the services monitored are important, but we wanted a separate indicator to simply show the overall health of the most critical systems. Furthermore, we came up with the following criteria: We wanted this visible to everyone whether or not they were near a web browser or even a monitor. We wanted it to preserve the "red/yellow/green" status ...
Read more

›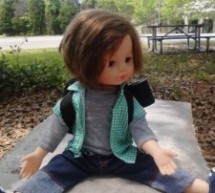 This instructable will attempt to show you how to make an animatronic doll controlled by a wireless nunchuk. This doll can only move its head though. I'm sure there are plenty of people out there who can take this and expand on it and make it much better, and I encourage that completely. :) This instructable will focus more on the coding and wiring than on the building. Since the doll you use for this proje ...
Read more

›
The YaNis EOS controller is a device that allows you to wirelessly control your Canon DSLR from your Android phone. What's really exciting here is that the Android interface allows you to change most of the camera's settings (like Shutter Speed, Aperture Size, ISO, White Balance, Focus Position and others) from more than 20 meters away! The controller is based on the Arduino platform and some commonly avail ...
Read more

›
Recently, I decided I would like to attempt to make a passcode lock with my newly acquired Arduino Uno, but all the tutorials I could find made use of a modified keypad, something that not every Tom, Dick and Harry has lying about. I therefore decided to set out and make a version using only things every Arduino user should have in their component box - buttons. Ladies and Gentlemen, I bring to you - the Ar ...
Read more

›
This example shows how to use SPI communications to read data from a SCP1000 Barometric Pressure sensor, and how to then post that data to the web by using your Arduino/Ethernet Shield combo as a simple web server. Using the Ethernet library, your device will be able to answer HTTP requests by responding with just enough HTML for a browser to display the temperature and barometric pressure values outputted ...
Read more

›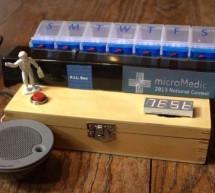 The P.I.L. Box - A Better Medication Reminder System Studies show the consequences of patients not taking medications according to doctor's orders can be serious, especially in older patients.With today's low cost micro-controllers and sensors (and the incentive of the Radio Shack / Instructables Micro Controller Contest) I thought there must be a better way to ensure my elderly relatives are taking their m ...
Read more

›
This project slightly modifies the Google Android sample app called "Bluetooth Chat" so you can type a message in the Android app and that same message will appear on an LCD attached to an Arduino Uno. Functionality:  Android  talks to Arduino 1. Run the Android "Bluetooth Chat" sample app (after we modify the app in this instructable).  Type a message in the app's text box and press the "send" button.  The ...
Read more

›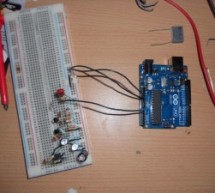 Here is my instructable on how to construct a pretty simple (for some!) short range infrared rangefinder/range sensor. Infrared rangefinders are very useful in a number of projects. The majority of these come from obstacle detection (in robots) or generally detecting distances! The one shown here is only a simple rangefinder and will only really be able to measure about 6 or 7cm infront of the range finder. ...
Read more

›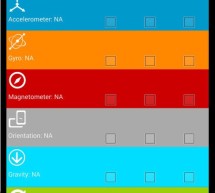 UPDATES Nov 23, 2013: SensoDuino 0.160 gets a face left. Nov 19. 2031: OPINION: The Amazing Synergy Between Arduino & Android. Nov 19, 2013: SensoDuino 0.159 is out. Android phone date (y,m,d) and time (h,m,s) are supported as sensors. Support for Android KitKat (4.4/API 19). INTRODUCTION Think of SensoDuino as having over a dozen virtual shields for your Arduino each providing a function or feat ...
Read more

›
Now I am lucky enough to work at the greatest company in the world as a University of Waterloo, co-op student. It might not even be a company you've heard of yet. They're named Upverter and we are trying to change the way people design, build, share and collaborate on electronics. My job (also the coolest job in the world) is to find interesting problems that either have been or could be solved with electro ...
Read more

›
In this example, you will use your Ethernet Shield and your Arduino to create a simple Web server. Using the Ethernet library, your device will be able to answer a HTTP request with your Ethernet shield. After opening a browser and navigating to your Ethernet shield's IP address, your Arduino will respond with just enough HTML for a browser to display the input values from all six analog pins. Circuit The E ...
Read more

›
a.k.a. the gratuitously complicated bidirectionally communicating Arduino-based scrolling Twitter display and notifier. ---- This project was mainly done as an excuse to learn how to use character LCD displays with my Arduino, and figure out how to make a bidirectional serial protocol.  One major design goal was that the hardware would take user input and communicate back to the PC, not just run as a "dumb" ...
Read more

›