How it all begun
Hi, my name is Alex Sardo. I am the founder of World Class Technologies an innovative Software and Hardware design company which develops custom designed solutions for various markets and communities.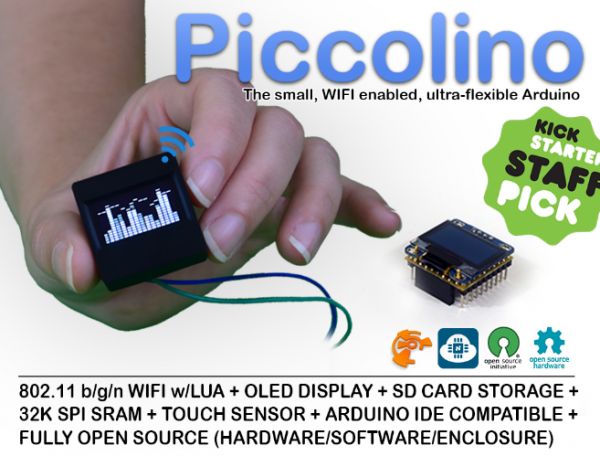 I can't remember how many times I wanted to embed an OLED display into a project, or perhaps design a remote, WIFI controlled appliance or even add a micro-sd card to store data, only to find out that such interfaces, while easy to embed, were either costly, not voltage compatible and/or bulky …
I am, like you, a developer and creator of cool things. I like to learn and test new ideas, spending time designing and developing solutions using various interfaces. Up to now, this was a tedious and time consuming exercise. By the time I added storage, display and a few sensors (and don't get me started on WIFI), my product required a small lunch box to carry around.
I decided to do something about it and late last year, we started designing a low-cost alternative platform that would be easy to use, fast to deploy new projects with and feature rich. In January 2015 Piccolino was born.
Piccolino (Italian for "tiny") is a small, low-cost yet powerful programmable controller with an embedded OLED display and WIFI connectivity that you can program using existing tools like the Arduino IDE environment and the ESPlorer IDE. It uses the new ESP8266 LUA powered WIFI module which takes care of all the WIFI connectivity workload requiring only 3 lines of code in your sketches to establish a wireless connection. Furthermore, it can be configured both as an Access Point or a Station, so you can easily develop mobile device controlled appliances.
The Atmel328p is used in thousands of Arduinos with enthusiasts and professional engineers around the world developing projects with it every day. Piccolino is built on the success of the Arduino micro-controller and adds 2 individual touch (capacitance) zones on the bezel, a bright low power 0.96″ OLED display, 32KB of static RAM, a uSD card with Gigabytes of storage and a powerful programmable (reliable) WIFI module making it the perfect low-cost, high performance choice for your next project. No new programming languages to learn, no monthly fees to pay for the service. It's yours to create whatever you want, whenever you want.
Piccolino is essentially an Arduino on steroids. Adding the ability for cloud enabled based devices, web alarms, event-driven email or text message notifications to phone or tablet, remote web-controller appliances, WIFI signal strength meters, monitors, loggers, network scanners has never been easier.
For More Detail:Piccolino: Arduino Compatible + WIFI + OLED + SRAM + SD CARD