The ultimate combination of an Arduino-compatible board and your day-to-day Gadget in one handheld Device.
Phoenard is an All-in-one Arduino-compatible prototyping Gadget powered by an 8-bit AVR ATMEGA2560, identical to the one you find in Arduino Mega. It is essentially a pocket-sized prototyping platform which you can use as the 'brain' in your projects, similar to using an Arduino. BUT, it has a lot more features built into a single case developed in such a way that you can use it as your day-to-day Gadget.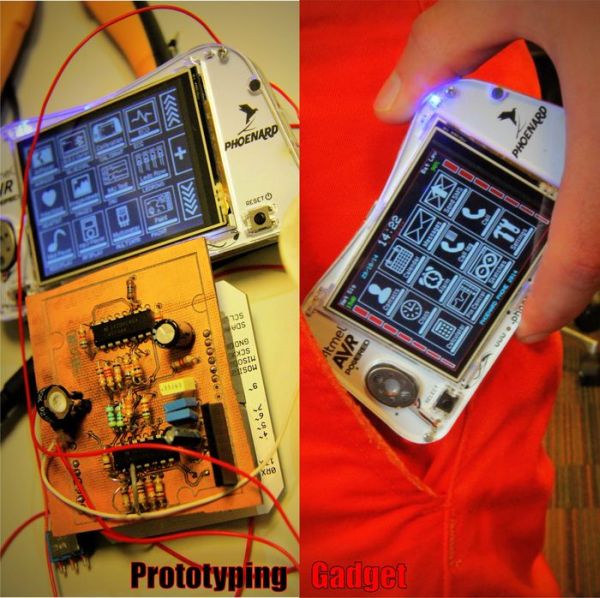 Being All-in-one, it has everything that every true maker has been dreaming of:
Rich Features: Self-programmed, Full-color touchscreen display, on-board battery and much more are included
Portability: Being pocket-sized with dimension only 11.8 x 6.1 x 1.1 cm, making it comfortable to bring along with you
'Operating Environment': Not only introducing an ease to the user, but its OE making the Phoenard a one-of-a-kind product
Multi-functionality: Stop putting away your development board when left unused; slide Phoenard into your pocket as your Gadget instead
On-Board Course: Perfect for starting prototypers. No need to have programming skills or have a computer with you, as the Phoenard itself can guide you
100% Arduino-Compatible: No need to worry about compatibility issues, as it is powered by the same Microcontroller and protocol as the Arduino Mega
Extendability: Easy access to your project with Phoenard extensions, simply plug-and-play and run your sketches
Phoenard is essentially for everyone who is passionate about making and/or for those who is looking for a great tools to get started in electronics and programming.
Educators and lab instructors will find Phoenard a useful tool to let students explore the world of electronics, the use of sketches making deliverables and preset software an ease
Students can use Phoenard as a gadget to play with in their spare time and with friends
Engineers can use Phoenard to test and debug their projects, making use of the many hardware features available
Parents looking for the latest learning tools for their kids may turn to Phoenard to let the on-board courses speak for themselves
And of course last but not least, any maker, hobbyist, hacker, developer, midnight engineer should have noticed that Phoenard is for them even before reading this sentence.
For more detail: Phoenard: World's 1st Arduino-compatible Prototyping Gadget