ORIGIBOT2 Telepresence Robot Platform with Arm & Gripper can unlock a deadbolt when your keys are conveniently locked inside the house.
Get involved with the newest bot on the block the ORIGIBOT2.
The Arduino-powered ORIGIBOT2 Telepresence Robot Platform with Arm & Gripper just started on the Indiegogo crowdfunding platform and has a Super Early Bird Special of 40% Off at $599.
This robot can be controlled with your smartphone or computer from anywhere, folks!
This includes the ORIGIBOT2 Advanced Carbon Fiber Telepresence Robot Platform with Arm and Gripper and an Android tablet equipped as the head of the bot.
ORIGIBOT2 is slim and sexy, sporting a carbon fiber structure.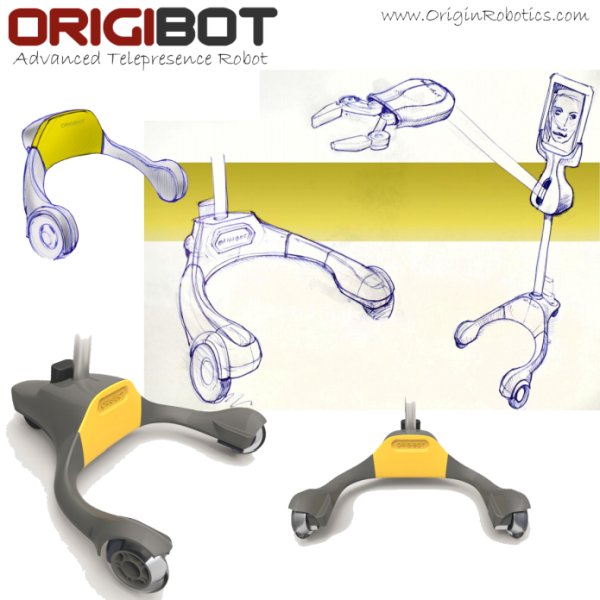 This makes the platform incredibly strong, sturdy, and light, which is a trait often lacking in life-size robotic creatures (remember this bot haunting MIT).
This is one of the least intimidating 53-inch tall robots ready to assist you in the house, the office, the factory, or the garage.
Steve Jobs would have loved the ORIGIBOT2's minimalistic design.
Origin Robotics, Inc. took the ORIGIBOT2 Telepresence Robot Platform with Arm & Gripper and thoroughly tested it using 3-D printed materials, hidden wiring, and carbon fiber skeletons to find the perfect combination of design, durability and functionality.
And they built their brain off of a board utilizing what they deem the very 'hackable' Arduino platform, what has become a robot maker's godsend, and an Android tablet (included).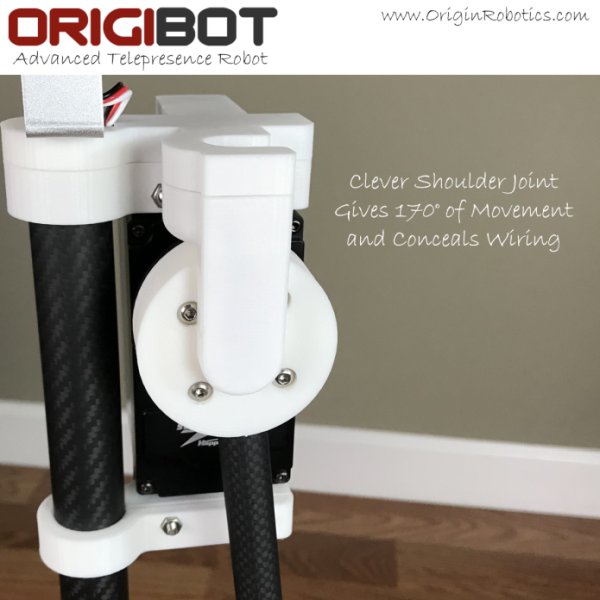 I would hope in the future they might allow for an iPad to be the literal face of the ORIGIBOT2, but that is just splitting hairs at this point.
The amazing smoothness of the movement, it is fast, and the degrees of motion make for a remarkably adept robot friend.
The claw, I mean gripper, opens up to 3 inches so it cannot get around your throat during the uprising and the following robot apocalypse.
But the gripper can handle most common objects with a good enough hold to unlock and open a door for you (depending of course on the use of a doorknob or not).
What dazzles the eye is 180 degrees of freedom for the tablet and its camera to look from floor to ceiling.
The motor drive can handle a 1Kg payload capacity, while the custom shoulder-joint has 170 degrees of movement.
And lest we forget the wrist has three degrees of freedom, in case you want to walk the dog remotely, meaning it can move up/down, it can rotate, and it can open and close that oh so useful claw.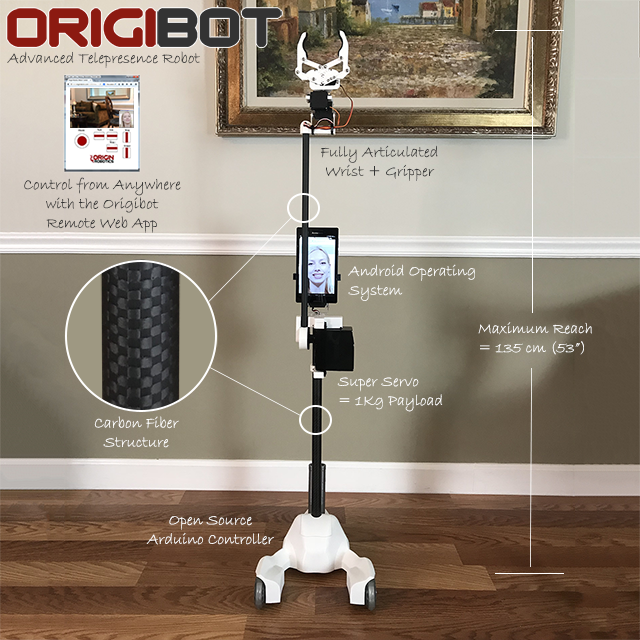 The free App was constructed for Windows, iOS, Android, and Mac OS to control the ORIGIBOT2 Telepresence Robot Platform from a desk or a phone.
I know humans love the ORIGIBOT2.
I just wonder whether Indiana Jones, my pup, and the cats, who abhor the vacuum cleaner, will feel about the robotics revolution in my home and garage.