AC/DC modules Traco TMPS 03 with dimensions of 1"x1"x0,6" represent a top-class solution of power supply with minimum space requirement.
Power supplies with a high power density (W/cm3) are nowadays offered by several producers. However, perhaps the biggest challenge is a miniature power supply with a power of say a few Watts. It´s because even these smallest power supplies need practically the same components like the bigger sources need (just less powerful of course), but dimensions of these "weaker" components are usually only slightly smaller than powerful ones.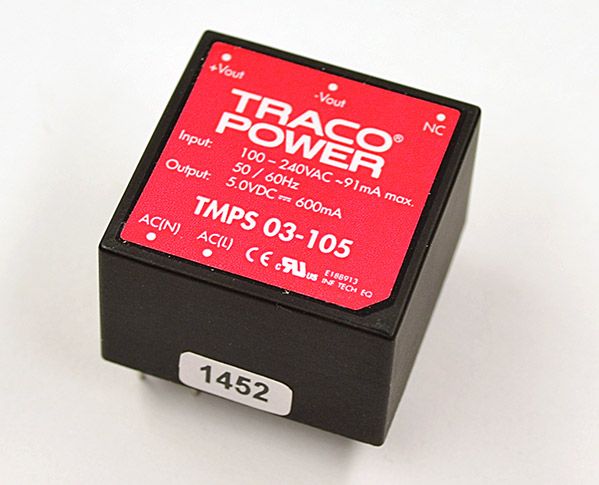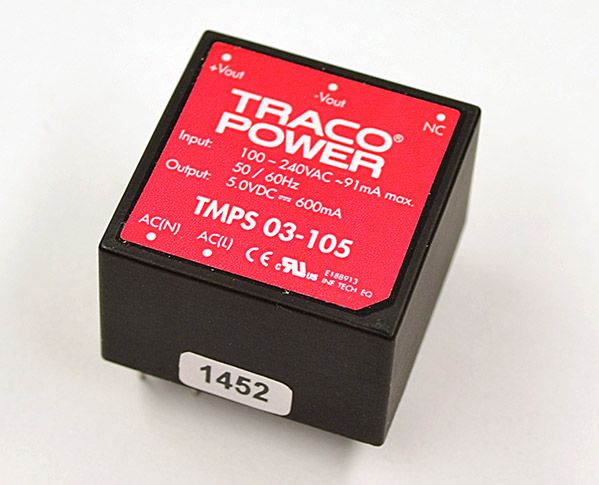 In this case the new TracoPower TMPS 03 series brings a literally new dimension. Dimensions 1×1 inch (25.4mm) and a height only 15.3mm enable usage of TMPS modules even in devices, where every cm3 is precious.
A big advantage is, that the TMPS module is capable of a short-time (<30s) repetitive operation delivering up to 30% higher power (while maintaining average total power of 3W). This can be valued for devices requiring higher start-up current, or at driving small motors and similar. TMPS easily meets requirements for a small standby power consumption, as it only needs 0,15 W in the no-load condition.
TMPS series module can be sourced from "any" AC mains line (85-264VAC) and even from a DC line (120-370VDC).
Further technical details can be found in the Traco TMPS datasheet. On stock we already have the TMPS03-105 version (5V/0.6A) and soon another types will be added.
In case of interest in any TracoPower product, please contact us at [email protected].
Advantages / Features
top-class 3W AC/DC modules
ultra compact – 25,4×25,4×15,3 mm (1"x1"x0,6")
standby power consumption only 0.15 W
continuous shortcut and over-current protection
possibility to draw up to 30% higher current (<30 sec)
6 versions (single output 3, 5, 9, 12, 15, 24 VDC)
For more detail: One "inch" will provide you 3 Watts