In November 2018, Hrdkernel announced the  ODROID H2 as a "new generation of single-board computers." However, despite its success, they could not ship enough of them to satisfy the demand due to the Intel Gemini Lake J4105 CPU supply shortage.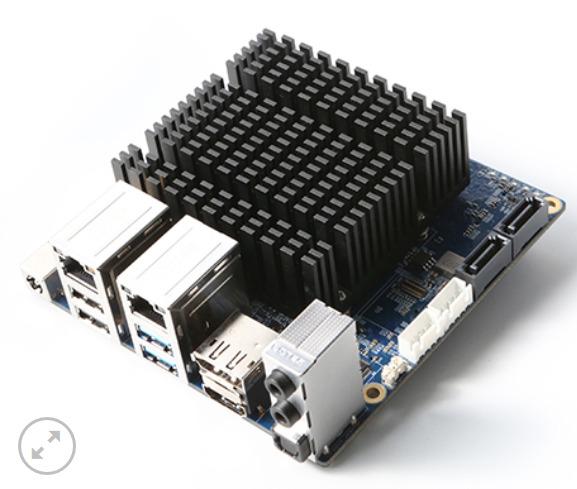 Due to the shortage of the ODROID H2, the Odriod-H2+ was introduced, which has a slightly faster CPU, and will ship in large volume, and also has a pair of much faster 2.5GbE Ethernet ports. Intel started early this year to offer a slightly modified chip called the J4115, and the Odroid-H2+ runs Ubuntu on the quad-core J4115. Hardkernel says:
"We therefore expect that most of the existing parts supply problems to be resolved."
Hardkernel says:
"Beyond the CPU update, we upgraded the Ethernet controllers and RJ45 jacks to support much faster 2.5 GbE networks. The new NIC chipset RTL8125B requires users to proceed with a manual driver installation since the upstream kernel still needs a patch. We have also increased the number of GPIO pins from 20 to 24 to add USB 2.0 and HDMI CEC signals. If you want to use the CEC function, you need to buy a 3rd party CEC adapter board." They continue "Finally we also changed the 12V SATA power circuit to improve the suspend-resume power control sequence of 3.5" HDDs."
The Intel J4115 clocks at 1.8GHz, and offers a Turbo Boost speed of up to 2.5GHz or 2.3GHz in multi-thread mode. This is a huge difference from the earlier J4105 that clocked at 1.5GHz/2.3GHz when the H2 was launched. The J4115 offers Intel UHD Graphics 600 and a 10W TDP, just like the J4105. The SBC is compatible with Ubuntu 20.04 image, Linux distros, and Windows 10.
Read more: ODROID-H2+ SBC FEATURES CELERON J4115 PROCESSOR UPGRADE, AND DUAL 2.5GBE NETWORKING PORTS