Nordic Semiconductor's multi-sensor kit supports LTE-M, NB-IoT, GPS, and Bluetooth low energy
Nordic Semiconductor's Nordic Thingy:91 multi-sensor prototyping kit is ideal for cellular IoT projects using the nRF9160 system-in-package (SiP). The kit is equipped with a diverse collection of sensors and interfaces that make it highly adaptable to rapid prototyping and getting a user's proof-of-concept off the ground quickly.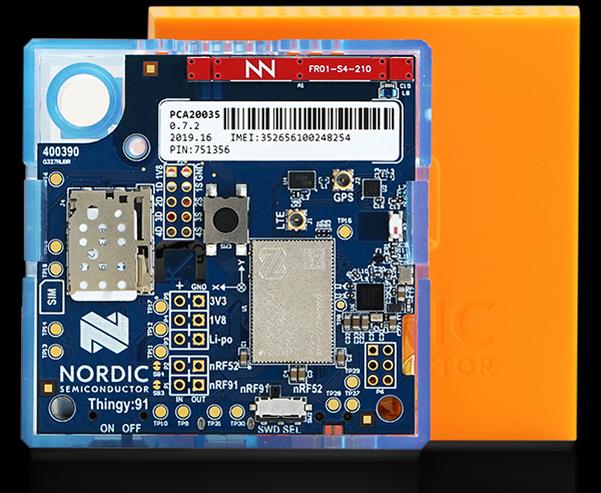 The Nordic Thingy:91 comes with a pre-loaded, feature-rich asset-tracking application that makes use of the on-kit sensors. LTE-M and GPS work from the device to the cloud and provides users with a working out-of-the-box asset-tracking and monitoring experience with the Nordic Thingy:91. The kit can be reprogrammed with the user's dedicated application.
The Nordic Thingy:91 is built around the nRF9160 SiP. The nRF9160 has a separate application/radio modem architecture to aid development simplicity and the overall performance. The SiP incorporates the Arm® Cortex®-M33 as a dedicated application processor which is used solely for powerful application processing. The dedicated radio system can support LTE-M, NB-IoT, and GPS technologies for precise positioning. The nRF9160 SiP integrates a full front-end RF system with a complete power management system.
Security is critically important in IoT. The nRF9160 takes advantage of Cortex-M architectures by using Arm TrustZone® for secure boot and secure execution within the device. This technology has been the mainstay of secure operation in Cortex-A devices and is used to build secure operation in smartphones and tablets.
Read more: NORDIC THINGY:91 CELLULAR IOT PROTOTYPING KIT