New, Low Profile, SMT PCB Edge Connectors from Keystone.
New Hyde Park, NY, A new series of SMT PC Board Connectors designed to transmit signals or power across PC Boards are the latest connectivity devices available from Keystone Electronics Corp.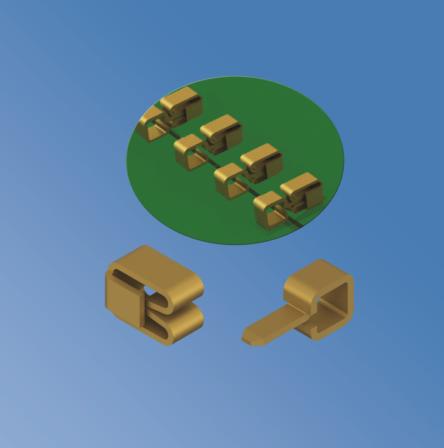 Quickly and easily set-up, these space-saving SMT connectors have a horizontal orientation mak¬ing them uniquely suitable as parallel board-to-board or board-to-component alternative options for power or signal transferring. These new connectors are designed to provide ideal low profile circuit linkage and minimal footprint for high-density, high current PCB packages on power and aluminum backplanes. All PCB soldering applications, including reflow, may be utilized.
Manufactured from Phosphor Bronze with Gold Plate, Connectors are available in a Male (pin), Cat. # 6100 (bulk) or Cat. # 6100TR (tape and reel) and a Female (socket) Cat. # 6102 (bulk) or Cat. # 6102TR (tape and reel). The female sockets are equipped with side guides for additional reinforcement to minimize PCB movement when installed.
All tape and reel parts are packaged per ANSI/EIA-481 standard for compatibility with most vacuum and mechanical pick and place assembly systems. Delivery is from stock for all Keystone connectors via the company's global distribution network and online.
Read more: NEW SMT PCB CONNECTORS TO TRANSMIT SIGNALS OR POWER ACROSS PC BOARDS