MotherBone™PiOne™ is a peripheral motherboard for BeagleBone Black & Raspberry Pi providing safe I/O expansion for Linux based systems
The Background
We were evaluating BeagleBone Black and Raspberry Pi for low cost control systems when we discovered that the modules, as shipped, were fundamentally unusable for anything other than connecting to your PC and programming.
For instance, some of the cautions listed in the BeagleBone Black Systems Reference Manual are:
"NOTE: Do not connect 5V logic level signals to these pins or the board will be damaged.
NOTE: DO NOT APPLY VOLTAGE TO ANY I/O PIN WHEN POWER IS NOT SUPPLIED TO THE BOARD. IT WILL DAMAGE THE PROCESSOR AND VOID THE WARRANTY.
NO PINS ARE TO BE DRIVEN UNTIL AFTER THE SYS_RESET LINE GOES HIGH."
Since we were required to provide some kind of voltage isolation in order to connect the BeagleBone Black to any external devices, we figured everyone else would need some form of isolation as well in order to use BeagleBone Black in the real world.
An additional problem we discovered was that BeagleBone Black's default operating mode utilized many of the pins present on the I/O connectors and these were not available for general use without extensive operating system changes.
We also found that the Raspberry Pi has an extremely large user group and support.  This has allowed people to develop a tremendous amount of software for various applications.  However, like the BeagleBone Black, it is limited in its real world expandability out of the box.  We wanted to allow existing users of Raspberry Pi to use BeagleBone Black like a Highly Intelligent Super I/O to expand their projects into real world applications.  Additionally, this gives Raspberry Pi programmers a platform to easily port their routines to BeagleBone Black.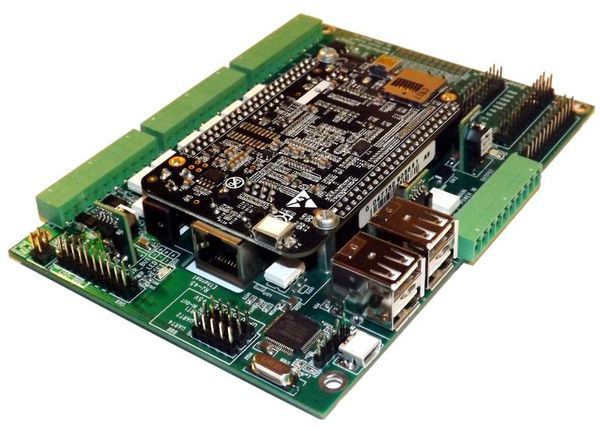 The Solution
We created a multi-tool: an all-in-one 3.5″ peripheral voltage isolating motherboard for the BeagleBone Black and Raspberry Pi Model B computers and expanded out and isolated all of the default configuration pins that were not being used by BeagleBone Black internal resources.  We also created two different on-board communication links between Raspberry Pi and BeagleBone Black for advanced control functions.  Now you are able to run both modules individually or simultaneously in the real world.
For more detail: MotherBone PiOne on Kickstarter